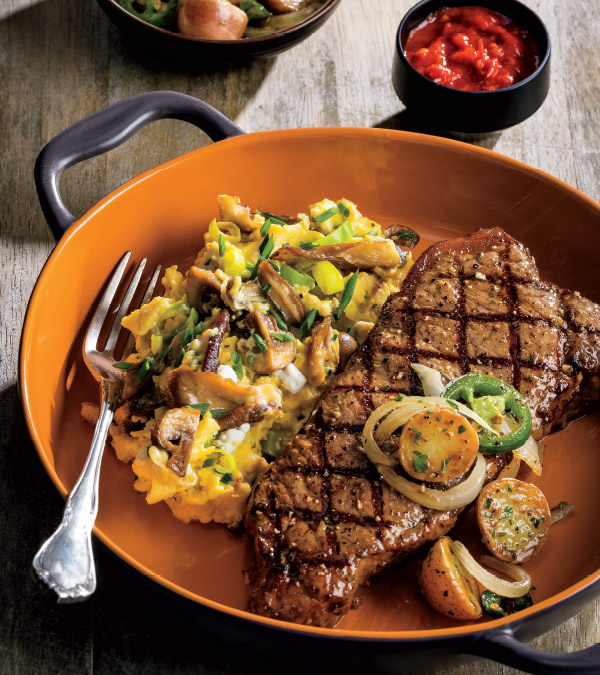 Wild Mushroom, Leek & Chèvre Scrambled Eggs
Prep: 15 minutes
Cook: 15 minutes • Serves: 4
1
tablespoon
PICS olive oil
8
ounces
Market 32 wild mushrooms
such as oyster, shiitake and/or baby bella, chopped
1/4
cup sliced leeks
1
teaspoon chopped fresh chives
1
teaspoon chopped fresh tarragon
2
tablespoons
PICS unsalted butter
8
PICS large eggs
1/4
teaspoon
PICS salt
1/4
teaspoon
PICS ground black pepper
3
tablespoons chèvre cheese
2
tablespoons harissa
1. In large skillet, heat oil over medium-high heat; add mushrooms and cook 4 minutes or until almost tender, stirring occasionally. Add leeks; cook 3 minutes or until mushrooms and leeks are tender, stirring occasionally. Stir in chives and tarragon; cook 1 minute. Transfer mushroom mixture to bowl; cover to keep warm.

2. In small microwave-safe bowl, heat 1 tablespoon butter in microwave oven on high 30 seconds or until melted.

3. In medium bowl, whisk eggs, salt, pepper and melted butter. In large nonstick skillet, melt remaining 1 tablespoon butter over medium heat. Add egg mixture; cook 4 minutes or to desired doneness, stirring occasionally to scramble. Fold in cheese and mushroom mixture; cook 1 minute or until heated through. Serve scrambled egg mixture with harissa.


Approximate nutritional values per serving:
270 Calories, 21g Fat, 8g Saturated, 390mg Cholesterol,
329mg Sodium, 5g Carbohydrates, 1g Fiber, 15g Protein