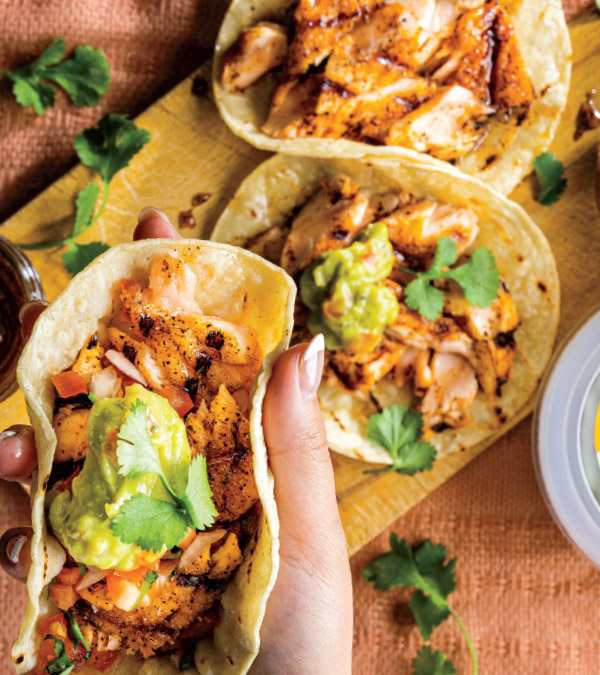 Grilled Sweet & Spicy Salmon Tacos
Prep: 10 minutes
Grill: 9 minutes • Serves: 4
1-1/2
tablespoons
PICS honey
1/2
teaspoon chipotle powder
1-1/4
pounds
Market 32 salmon fillets
1
tablespoon
PICS olive oil
1/4
teaspoon
PICS salt
1/8
teaspoon
PICS ground black pepper
8
(6-inch)
PICS white corn tortillas
1/2
cup
Market 32 pico de gallo
1/2
cup
PICS guacamole
3
tablespoons fresh cilantro sprigs
1. Prepare outdoor grill for direct grilling over medium-high heat. In small microwave-safe bowl, stir honey and chipotle powder; heat in microwave oven on high 20 seconds or until melted.

2. Pat salmon dry with paper towel; brush with oil, and sprinkle with salt and pepper. Place salmon, skin side up, on hot grill rack; cover and cook 4 minutes. Turn salmon and brush with honey mixture; cover and cook 4 minutes or until internal temperature reaches 145°. Transfer salmon to cutting board; cool 5 minutes. Remove skin from salmon; cut into small pieces. Makes about 3 cups.

3. Place tortillas on hot grill rack; cover and cook 1 minute, turning once.

4. Serve salmon mixture in tortillas topped with pico de gallo, guacamole and cilantro.


Serving Size: 2 tacos
Approximate nutritional values per serving:
449 Calories, 20g Fat, 3g Saturated Fat, 64mg Cholesterol, 880mg Sodium,
36g Carbohydrates, 5g Fiber, 11g Sugars, 6g Added Sugars, 32g Protein