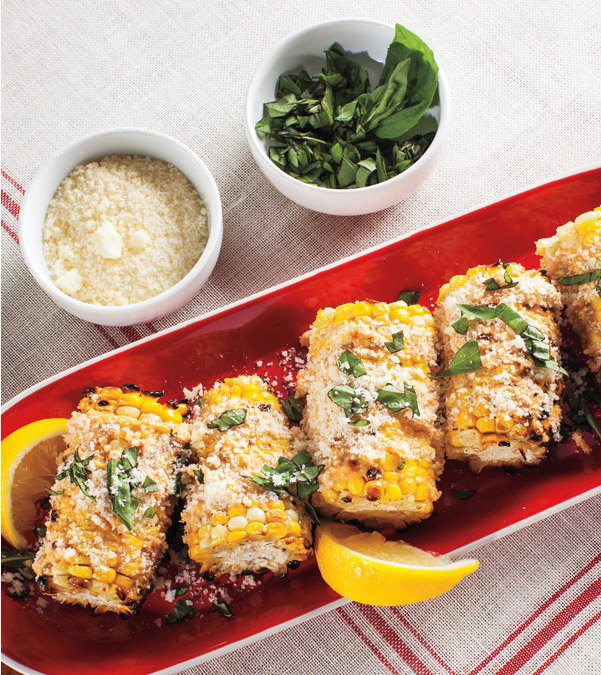 Shop Ingredients Click to See How-To Video!


Grilled Corn with Parmesan Spread & Basil
Prep:15 minutes
Grill: 10 minutes • Serves: 6
3
garlic cloves, crushed with press (about 1 tablespoon)
1
tablespoon olive oil
1/2
cup mayonnaise
1/4
cup grated Parmesan cheese plus additional for sprinkling (optional)
2
teaspoons fresh lemon juice
1/2
teaspoon crushed red pepper flakes
6
ears of corn, silks and husks removed, cut crosswise in half
Nonstick cooking spray
1/4
cup coarsely chopped fresh basil leaves
1.Prepare outdoor grill for direct grilling over medium-high heat. In small skillet, cook garlic in oil over medium heat 1 to 2 minutes or until golden brown, stirring frequently; cool.

2.In small bowl, stir mayonnaise, cheese, lemon juice, pepper flakes and garlic mixture. Makes about 3/4 cup.

3.Spray corn with cooking spray. Place corn on hot grill rack; cover and cook 10 to 12 minutes or until golden brown, turning frequently.

4.To serve, brush corn with mayonnaise mixture; sprinkle with additional cheese, if desired, and basil.


Approximate nutritional values per serving: 

248 Calories, 23g Fat (15g Saturated), 10mg Cholesterol,
199mg Sodium, 27g Carbohydrates, 2g Fiber, 5g Protein