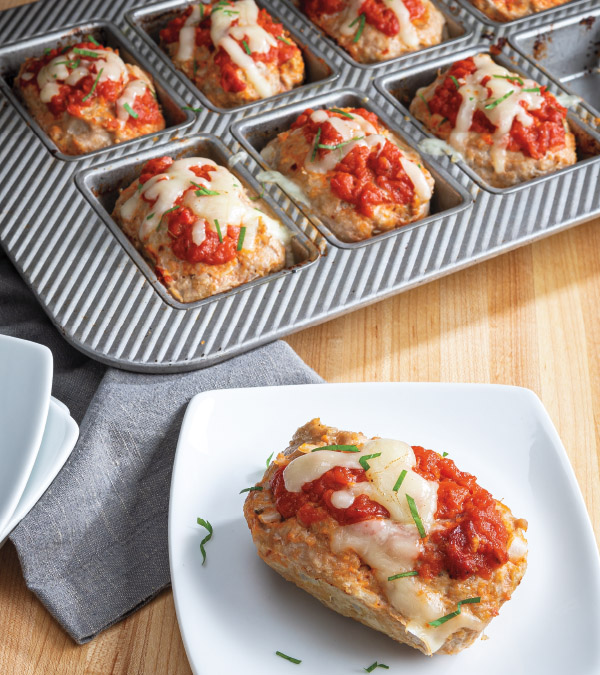 Chicken Parmesan Mini Meatloaves
Prep: 15 minutes
Bake: 30 minutes • Serves: 8
PICS nonstick cooking spray
1
PICS large egg
2
pounds 93% lean ground chicken
1
garlic clove, minced
1
cup reduced sodium marinara sauce
1
cup whole wheat panko breadcrumbs
1/3
cup
PICS grated Parmesan cheese
1/4
cup finely chopped yellow onion
2
tablespoons chopped fresh basil and/or parsley plus additional for garnish (optional)
1/8
teaspoon
PICS crushed red pepper flakes
1/4
teaspoon
PICS ground black pepper
cup
PICS shredded reduced fat mozzarella cheese
1.Preheat oven to 350°. Spray an 8-well (4 x 2-1/2-inch) mini loaf pan with cooking spray.

2.In large bowl, whisk egg; add chicken, garlic, 3/4 cup marinara, breadcrumbs, Parmesan cheese, onion, basil, crushed red pepper and black pepper. Gently mix until just combined; divide into prepared wells. Makes about 5 cups.

3.Bake meatloaves 15 minutes; brush tops with remaining 1/4 cup marinara and sprinkle with mozzarella cheese. Bake 15 minutes or until internal temperature reaches 165°. Serve sprinkled with basil and/or parsley, if desired.


Approximate nutritional values per serving (1 meatloaf):
316 Calories, 15g Fat (4g Saturated), 134mg Cholesterol,
579mg Sodium, 11g Carbohydrates, 2g Fiber, 36g Protein