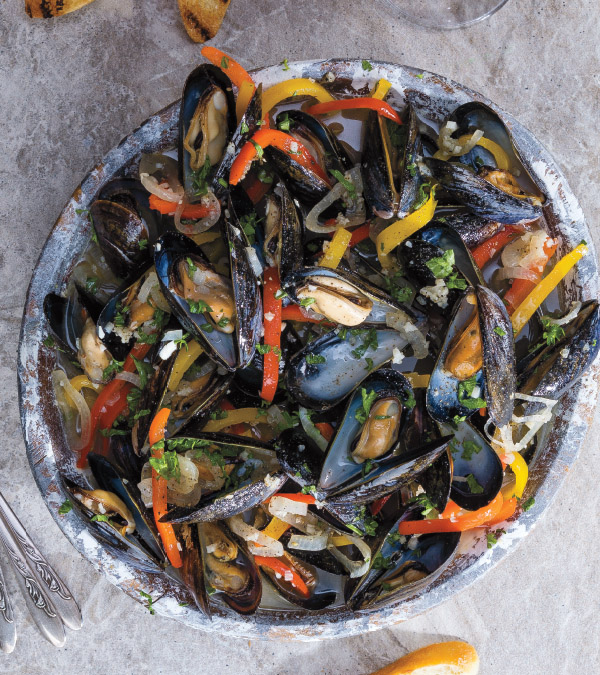 Beer-Steamed Mussels with Peppers & Shallots
Prep: 25 minutes
Cook: 10 minutes • Serves: 4
4
pounds mussels, scrubbed and rinsed, beards removed
1-1/2
tablespoons
PICS olive oil
4
shallots, sliced
2
sprigs fresh thyme
2
cups thinly sliced
Full Circle red and/or yellow bell peppers
4
garlic cloves, minced
2
bottles (11.2 ounces each) Belgian-style pilsner or lager beer
2
tablespoons fresh lemon juice
2
tablespoons
PICS unsalted butter
1
teaspoon
PICS salt
1/2
teaspoon
PICS fresh ground black pepper
2
tablespoons chopped fresh parsley
Crostini for serving (optional)
1.Lightly press any opened mussels; discard any that don't close in a few minutes or any with cracked shells.

2.In large saucepot, heat oil over medium heat. Add shallots, thyme and bell peppers; cook 3 minutes, stirring occasionally. Add garlic; cook 1 minute. Increase heat to high; add beer and heat to a simmer. Add mussels; cover and cook 3 minutes or until mussels open; discard any unopened mussels. Stir in lemon juice, butter, salt and black pepper.

3.Ladle mussel mixture into serving bowls; sprinkle with parsley and serve with crostini for dipping, if desired.


Approximate nutritional values per serving:
374 Calories, 15g Fat (5g Saturated), 71mg Cholesterol,
953mg Sodium, 22g Carbohydrates, 2g Fiber, 25g Protein

Chef Tip:
For crostini: Diagonally slice baguette, or crusty French or Italian bread 1/4-inch thick. Brush both sides of bread slices with olive oil. Cook in a grill pan over medium-high heat 2 minutes per side or until grill marks appear and bread is toasted.