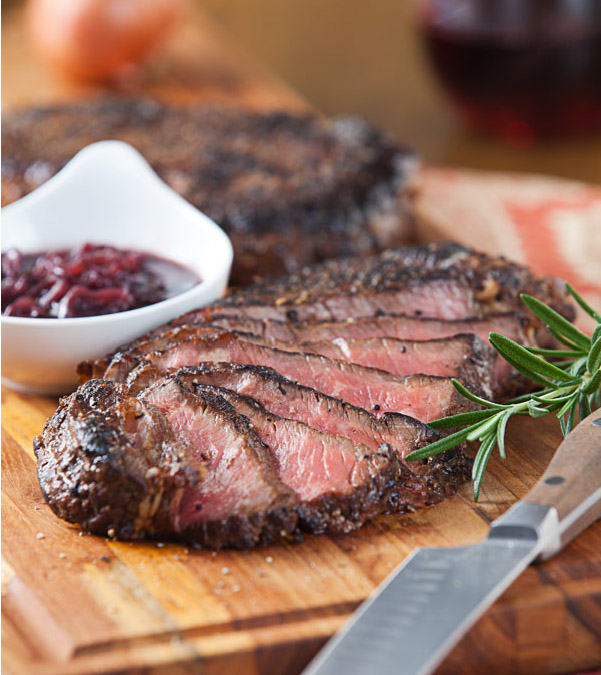 Shop Ingredients Click to See How-To Video!


Pepper-Crusted Steak with Red Wine-Shallot Sauce
Prep: 13 minutes
Cook: 17 minutes • Serves: 4
1-1/2
pounds boneless rib-eye or top sirloin steaks (about 1-inch thick)
3
tablespoons unsalted butter, softened
1
tablespoon cracked black pepper
1
teaspoon kosher salt
2
tablespoons olive oil
1
cup thinly sliced shallots
2
cups dry red wine (such as Cabernet Sauvignon)
1
teaspoon Dijon mustard
1.Pat steaks dry with paper towels. In small bowl, combine 2 tablespoons butter and pepper; evenly coat both sides of steaks with butter-pepper mixture. Sprinkle steaks with salt.

2.In large skillet, heat oil over medium-high heat 3 minutes or until shimmering, but not smoking. Add steaks and cook 8 to 10 minutes or until internal temperature reaches 140° for medium-rare, turning steaks once halfway through cooking. Transfer steaks to cutting board and loosely cover with aluminum foil; let stand 5 minutes. (Internal temperature will rise 5° upon standing.)

3.While steaks rest, drain all but 1-1/2 tablespoons drippings from skillet. Add shallots to same skillet and cook 1 minute, stirring frequently. Add wine, stirring to scrape browned bits from bottom of skillet; boil 5 to 7 minutes or until sauce thickens slightly. Remove skillet from heat; whisk in mustard and remaining 1 tablespoon butter.

4.To serve, thinly slice steaks across the grain and serve with sauce.


Approximate nutritional values per serving: 

561 Calories, 28g Fat (13g Saturated), 140mg Cholesterol,
581mg Sodium, 10g Carbohydrates, 0g Fiber, 37g Protein