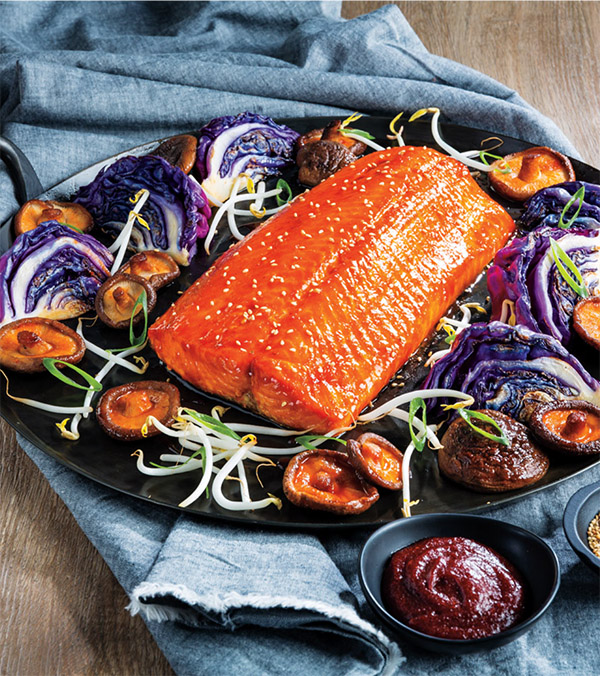 Shop Ingredients Click to See How-To Video!



Maple-Gochujang Roasted Salmon with Shiitake Mushrooms & Charred Red Cabbage
Prep: 15 minutes
Cook: 25 minutes • Serves: 4
Nonstick cooking spray
1-1/2
pounds fresh salmon fillet
1/2
pound shiitake mushrooms, stems removed
1
small head red cabbage, cut into 8 wedges
3
tablespoons maple syrup
2
tablespoons gochujang sauce
2
tablespoons sesame oil
1/2
teaspoon salt
1
cup bean sprouts
4
green onions, thinly sliced
1
teaspoon toasted sesame seeds (optional)
1.Preheat oven to 400°. Line rimmed baking pan with parchment paper; spray with nonstick cooking spray. Place salmon and mushrooms on 1 side of prepared pan; place cabbage, cut side down, on opposite side.

2.In small bowl, whisk syrup, gochujang and 1 tablespoon oil; reserve half. Brush salmon with remaining syrup mixture; rub cabbage with remaining 1 tablespoon oil and salt. Roast 15 minutes or until mushrooms are tender and begin to caramelize; transfer mushrooms to bowl and cover to keep warm. Increase oven temperature to 500°; roast 15 minutes or until internal temperature of salmon reaches 145°.

3.Serve salmon and vegetables topped with bean sprouts and onions; drizzle with reserved syrup mixture and sprinkle with sesame seeds, if desired.