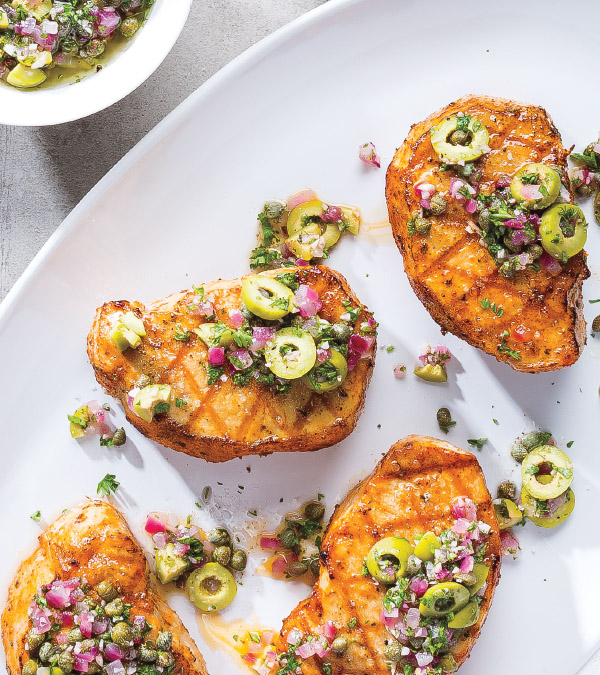 Spice-Rubbed Grilled Pork Chops with Spanish-Olive Caper Sauce
Prep: 20 minutes
Grill: 8 minutes • Serves: 4
1-1/2
teaspoons smoked paprika
1
teaspoon granulated garlic
3/4
teaspoon
PICS salt
1/2
teaspoon dried oregano
1/2
teaspoon
PICS granulated sugar
4
Market 32 boneless center-cut pork chops
(about 6 ounces each)
1/4
cup plus 3 tablespoons
PICS extra virgin olive oil
2
garlic cloves, minced
1
cup
Market 32 chopped red onion
1/4
cup chopped pitted Castelvetrano green or Spanish olives
2
tablespoons
PICS capers
, drained and rinsed
2
tablespoons fresh lemon juice
1/8
teaspoon
PICS ground black pepper
1/4
cup chopped fresh parsley
1.Prepare outdoor grill for direct grilling over medium-high heat. In small bowl, whisk paprika, granulated garlic, 1/2 teaspoon salt, oregano and sugar; rub pork chops with paprika mixture. Brush pork chops with 1-1/2 tablespoons oil. Place pork chops on hot grill rack; cover and cook 8 minutes or until internal temperature reaches 145°, turning once.

2.In large skillet, heat 1½ tablespoons oil over medium-high heat. Add garlic, onion, olives and capers; cook 1 minute. Stir in lemon juice; cook 30 seconds. Remove from heat; stir in pepper, parsley, and remaining 1/4 teaspoon salt and 1/4 cup oil. Makes about 1-1/4 cups. Serve olive mixture over pork chops.


Approximate nutritional values per serving:
564 Calories, 45g Fat (10g Saturated), 102mg Cholesterol,
797mg Sodium, 7g Carbohydrates, 2g Fiber, 37g Protein

Chef Tip:
Serve pork chops with rice or an ancient grain, such as quinoa, tossed with chickpeas, lemon juice and garlic.