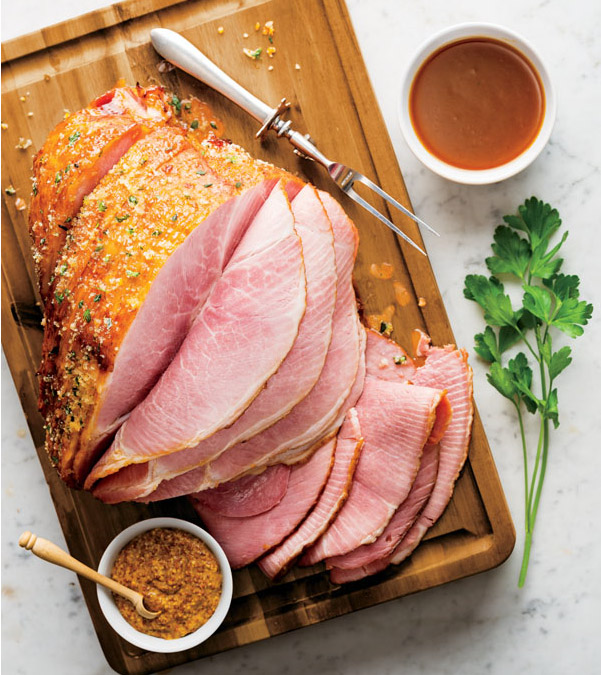 Shop Ingredients Click to See How-To Video!


Apricot-Mustard & Herbed Panko Ham
Prep: 25 minutes plus standing
Bake: 1 hour 30 minutes • Serves: 12
1
Smithfield® Spiral Sliced Ham (7 to 8 pounds)
1-1/2
cups apricot preserves
1
cup brown sugar
1/4
cup Asian-style hot mustard
1
tablespoon Worcestershire sauce
3/4
cup panko breadcrumbs
2
tablespoons chopped fresh chives
2
tablespoons chopped fresh Italian parsley leaves
2
tablespoons unsalted butter, melted
2
teaspoons grated lemon zest
1/2
cup hot water
1.Place roasting rack in large roasting pan. Place ham, cut side down, on rack in pan; add 1/2-inch water to pan. Cover ham loosely with aluminum foil; let stand 30 minutes. Preheat oven to 325°. Bake ham 1 hour.

2.In small saucepan, heat preserves, brown sugar, mustard and Worcestershire to a simmer over medium heat; simmer 2 minutes. In small bowl, stir breadcrumbs, chives, parsley, butter and zest.

3.Brush ham with some glaze; bake, uncovered, 20 minutes, brushing with glaze after 10 minutes. Remove ham from oven; increase temperature to 400°. Brush ham with glaze; sprinkle with breadcrumb mixture. Bake 10 minutes longer or until internal temperature reaches 135° and breadcrumbs are browned.

4.Transfer ham to serving platter; cover loosely with aluminum foil. Let stand 15 minutes before serving (internal temperature will rise to 140° upon standing). Stir water into remaining glaze; serve with ham.


Approximate nutritional values per serving: 

564 Calories, 13g Fat (3g Saturated), 172mg Cholesterol,
2807mg Sodium, 51g Carbohydrates, 0g Fiber, 60g Protein

Chef Tip:
Serve with coarse ground mustard, if desired.