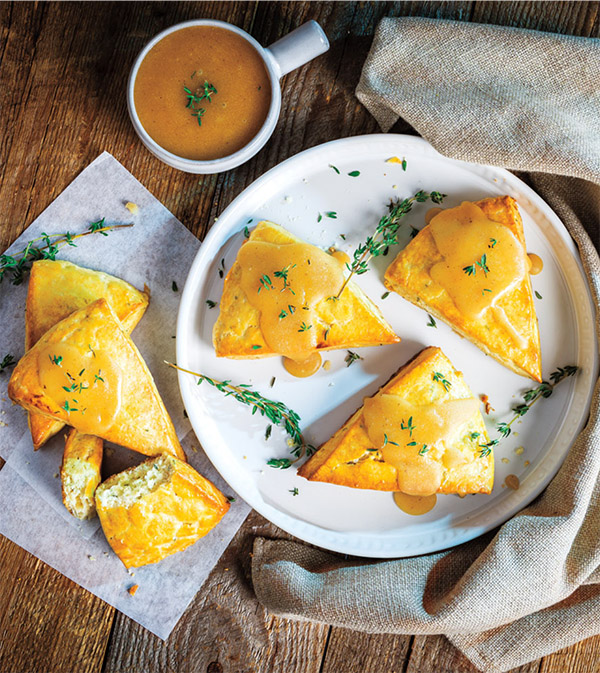 Shop Ingredients Click to See How-To Video!


Maple-Brown Butter & Thyme Cream Scones
Prep: 20 minutes
Bake: 15 minutes • Serves: 8
Thyme Cream Scones
Nonstick baking spray with flour
2
cups all-purpose flour plus additional for dusting
2
tablespoons
PICS Maple Syrup
1
tablespoon baking powder
1
tablespoon fresh thyme leaves plus additional for garnish
2
teaspoons kosher salt
6
tablespoons cubed unsalted butter
1
cup plus 1 tablespoon heavy cream
1
large egg
Maple-Brown Butter Glaze
1/2
cup unsalted butter
1/3
cup
PICS Maple Syrup
1
cup powdered sugar
1/2
teaspoon kosher salt
1.Thyme Cream Scones: Preheat oven to 425°. Spray 8-inch round cake pan with nonstick baking spray. Line rimmed baking pan with parchment paper; spray with baking spray.

2.In food processor, pulse flour, syrup, baking powder, thyme and salt until combined; add butter and pulse until dough is crumbly. Add 1 cup cream; pulse to incorporate. Transfer dough to floured work surface; knead just until dough comes together. Press dough into prepared cake pan; invert on cutting board and cut into 8 wedges. Place wedges on prepared baking pan.

3.In small bowl, whisk egg and remaining 1 tablespoon cream; brush scones with 2 tablespoons egg mixture. Bake 15 minutes or until golden brown.

4.Maple-Brown Butter Glaze: In small saucepan, cook butter over medium heat 5 minutes or until golden brown, whisking frequently; remove from heat. Whisk in syrup, sugar and salt; drizzle over scones. Makes about 1-3/4 cups.


Approximate nutritional values per serving: 

538 Calories, 32g Fat (20g Saturated), 100mg Cholesterol,
801mg Sodium, 60g Carbohydrates, 1g Fiber, 34g Sugars, 5g Protein