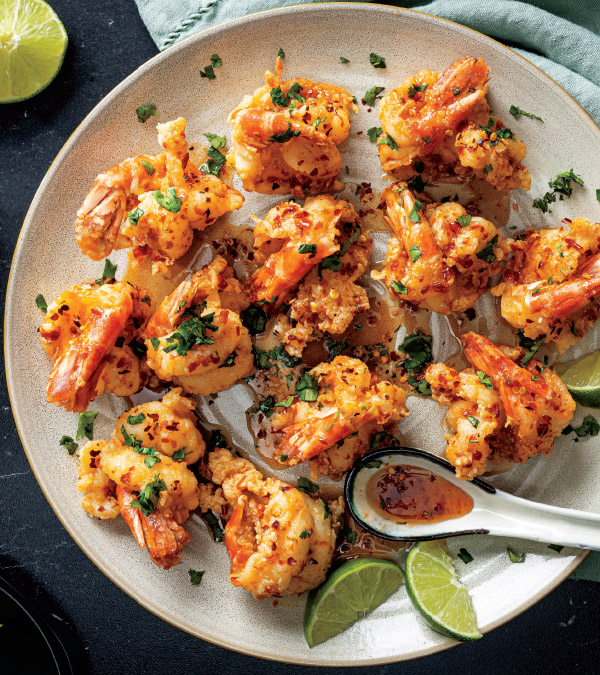 Sweet & Spicy Crispy Butterflied Shrimp
Prep: 25 minutes
Cook: 9 minutes • Serves: 4
20
8-12 count raw tail-on peeled and deveined shrimp, thawed if necessary (about 2 pounds)
1/4
cup
PICS honey
2
tablespoons sambal chili sauce
2
teaspoons
PICS lite soy sauce
1/2
cup
PICS all purpose flour
1/2
cup
PICS cornstarch
2
teaspoons
PICS baking powder
6
cups
PICS vegetable oil
1/8
teaspoon
PICS salt
Chopped fresh cilantro for garnish (optional)
1. To butterfly shrimp, with sharp knife, make a vertical cut down center back of shrimp, cutting only halfway through; stand upright and gently press to flatten.

2. In large bowl, whisk honey, chili sauce and soy sauce. In separate large bowl, whisk flour, cornstarch and baking powder; slowly whisk in 3/4 cup water.

3. Attach deep fryer thermometer to side of high-sided large skillet; add oil and heat over medium heat 8 minutes or until oil temperature reaches 350° (oil should be at least 1-1/2 inches deep). In 3 batches, holding shrimp tails, dredge shrimp in flour mixture, shaking off excess; add to oil and cook 3 minutes or until golden brown and internal temperature reaches 145°. With slotted spoon, transfer shrimp to paper towel-lined plate. Add hot shrimp to honey mixture; with spoon, gently stir to coat shrimp.

4. Serve shrimp sprinkled with salt and cilantro, if desired.


Serving Size: about 5 shrimp
Approximate nutritional values per serving:
734 Calories, 45g Fat, 7g Saturated Fat, 364mg Cholesterol, 1850mg Sodium,
43g Carbohydrates, 0g Fiber, 19g Sugars, 17g Added Sugars, 41g Protein