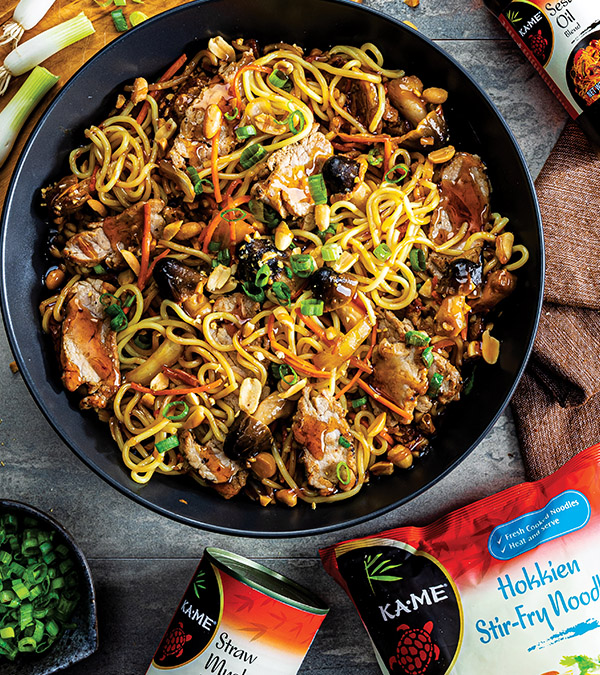 Pork & Vegetable Noodle Stir-Fry
Prep: 20 minutes
Cook: 9 minutes • Serves: 6
2
tablespoons
PICS cornstarch
1/2
cup hoisin sauce
1
tablespoon grated fresh ginger
1
teaspoon
PICS red pepper flakes
2
tablespoons
KA-ME® sesame oil blend
1
pork tenderloin, thinly sliced (about 1 1/2 pounds)
3
garlic cloves, minced
1
can (15 ounces)
KA-ME® straw mushrooms
, drained
1
medium white onion, chopped
1/2
cup shredded carrots
1
package (14.2 ounces)
KA-ME® Hokkien stir-fry noodles
Chopped peanuts and/or sliced green onions for garnish (optional)
1. In medium bowl, whisk cornstarch and 3/4 cup water until smooth; stir in hoisin, ginger and red pepper flakes.

2. In large skillet or wok, heat oil over medium-high heat. Add pork and cook 3 minutes or until no longer pink; with slotted spoon, transfer to paper towel-lined plate.

3. In same skillet, cook garlic 1 minute or until fragrant, stirring frequently. Add mushrooms, onion, carrots and hoisin mixture; cook 3 minutes or until sauce is slightly thickened and vegetables are tender-crisp, stirring frequently. Add noodles and pork; cook 2 minutes or until noodles are soft and internal temperature of pork reaches 145°, stirring occasionally. Makes about 8 cups.

4. Serve stir-fry garnished with peanuts and/ or green onions, if desired.


Approximate nutritional values per serving(1 1/2 cups):
360 Calories, 10g Fat, 2g Saturated Fat, 61mg Cholesterol, 1087mg Sodium,
38g Carbohydrates, 3g Fiber, 8g Sugars, 7g Added Sugars, 28g Protein