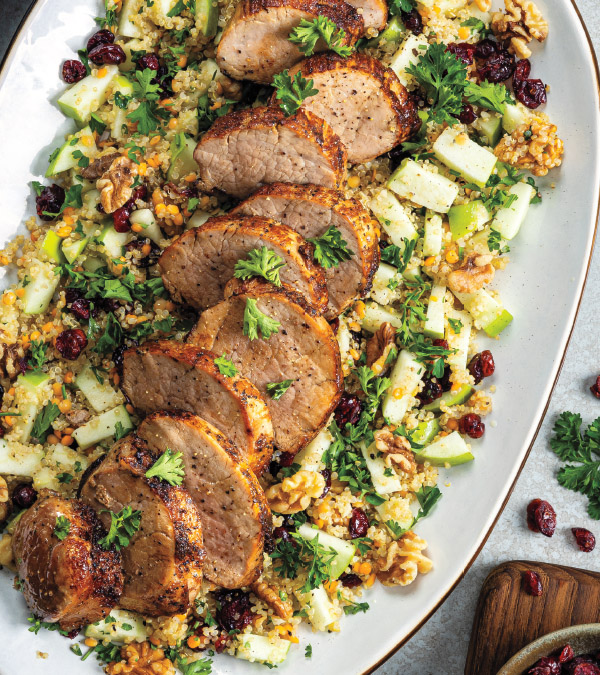 Pork Tenderloin with Apple-Cranberry Grain Salad
Prep: 30 minutes plus standing
Cook/Roast: 17 minutes • Serves: 4
1/2
cup
PICS quinoa
, rinsed
1/4
cup red lentils
1/4
cup
PICS olive oil
1
pork tenderloin (about 1-1/2 pounds)
3/4
teaspoon
PICS salt
3/4
teaspoon
PICS black pepper
1
garlic clove, minced
2
tablespoons
PICS apple cider vinegar
2
teaspoons
PICS Dijon mustard
1
large Granny Smith apple, cored and chopped
1/4
cup dried cranberries
1/4
cup
PICS walnut halves & pieces
2
tablespoons finely chopped fresh parsley plus additional sprigs for garnish (optional)
1. Preheat oven to 375°. In medium saucepot, heat 2-1/2 cups water to a boil over high heat. Stir in quinoa and reduce heat to medium-low; cover and cook 8 minutes. Stir in lentils; cover and cook 13 minutes or until liquid is absorbed, and quinoa and lentils are tender. Spread on large plate; cool 10 minutes.

2. In large cast-iron or oven-safe skillet, heat 2 tablespoons oil over medium-high heat. Sprinkle pork with 1/2 teaspoon each salt and pepper; add to skillet and cook 5 minutes or until browned, turning to brown all sides. Transfer skillet to oven; roast pork 12 minutes or until internal temperature reaches 145°. Transfer pork to cutting board and tent loosely with aluminum foil; let stand 10 minutes.

3. In large bowl, whisk garlic, vinegar, mustard, and remaining 2 tablespoons oil and 1/4 teaspoon each salt and pepper; stir in quinoa mixture, apple, cranberries, walnuts and parsley. Makes about 4 cups.

4. Cut tenderloin crosswise into 1/2-inch-thick slices; serve over grain salad garnished with parsley sprigs, if desired.


Approximate nutritional values per serving (5 ounces pork, 1 cup grain salad):
537 Calories, 25g Fat (4g Saturated), 92mg Cholesterol, 572mg Sodium,
38g Carbohydrates, 5g Fiber, 13g Sugars, 7g Added Sugars, 40g Protein