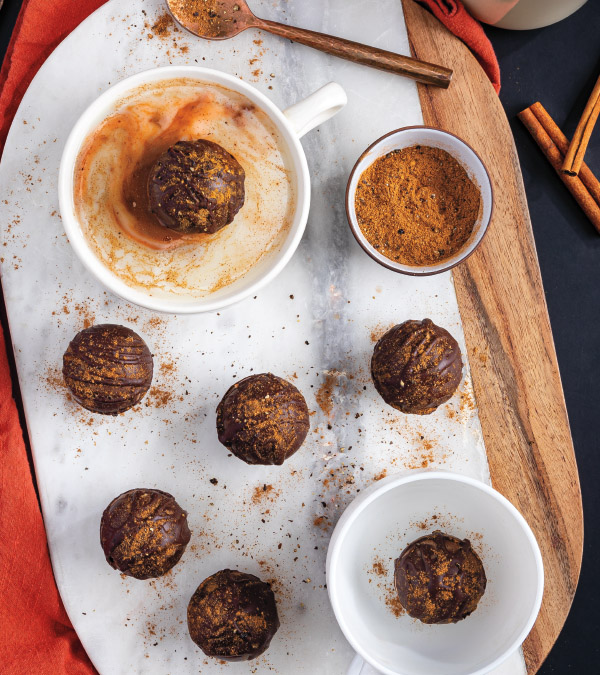 Customizable Chai Tea Latte Hot Chocolate Bombs
Prep: 45 minutes plus freezing and cooling • Serves: 6
2
teaspoons
PICS ground cinnamon
1
teaspoon allspice
1
teaspoon ground cardamom
1
teaspoon ground ginger
1/4
teaspoon ground cloves
1/8
teaspoon
PICS ground black pepper
1/2
cup dairy-free dark chocolate chips
6
cups oat milk
3/4
teaspoon almond, banana, orange and/or
PICS vanilla extract
1. Place silicone mold with 15 (1-1/2-inch) half-sphere cavities on rimmed baking pan; line separate rimmed baking pan with parchment paper. In small bowl, whisk cinnamon, allspice, cardamom, ginger, cloves and pepper. Makes about 3 tablespoons.

2. In medium microwave-safe bowl, heat chocolate chips in microwave oven on high 1 minute or until melted, stirring every 20 seconds. Brush insides of 12 molds with chocolate to coat, making sure to coat all the way to the rims; freeze 5 minutes or until hardened, then unmold onto parchment-lined pan.

3. Heat small nonstick skillet over very low heat 3 minutes or until slightly warm. Place 1 sphere, open side down, in skillet 2 seconds or just until edge is slightly melted. Transfer sphere back to pan, open side up; fill with 1-1/2 teaspoons cinnamon mixture. Place second sphere in skillet, open side down, 2 seconds or just until edge is slightly melted; place on top of filled sphere, open side down, to make ball shape. Repeat with remaining spheres and cinnamon mixture to make 5 more bombs; cool completely.

4. Place bombs in 6 large mugs. In medium saucepan, heat milk to a simmer; pour over bombs and stir to combine. Add 1/8 teaspoon of extract to each mug; stir to combine.


Approximate nutritional values per serving (1 bomb, 1 cup oat milk):
190 Calories, 12g Fat (5g Saturated), 0mg Cholesterol, 96mg Sodium,
25g Carbohydrates, 3g Fiber, 12g Sugars, 10g Added Sugars, 2g Protein

Chef Tips:
Regular chocolate chips and/or whole milk can be used in place of dairy-free chocolate chips and oat milk, if desired.
Any symmetrical-shaped 1-tablespoon capacity silicone mold can be used.
Refrigerate hot chocolate bombs in an airtight container up to 2 weeks.
To gift hot chocolate bombs, place in a cellophane treat bag, then place the bag in a mug tied with a festive-colored ribbon.