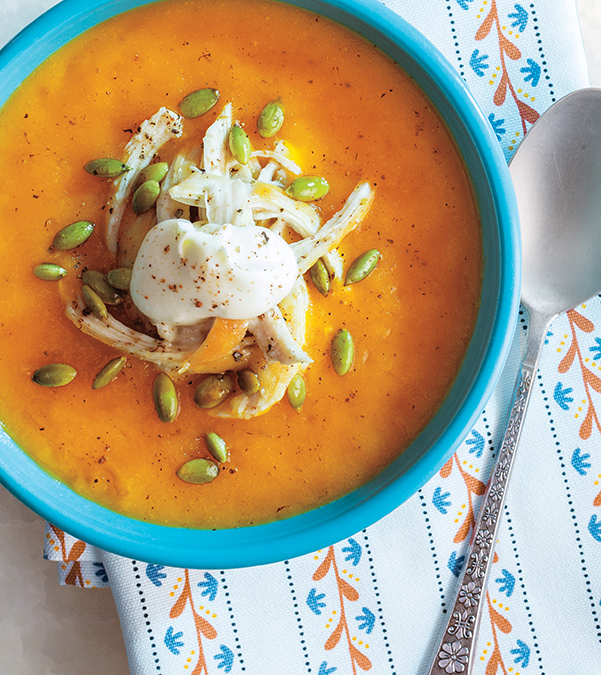 Butternut Squash Soup with Shredded Chicken
Prep: 15 minutes
Cook: 15 minutes • Serves: 4
1/2
cup raw pepitas
1
tablespoon
PICS olive oil
1
small shallot, finely chopped
1
garlic clove, minced
1
package (16 ounces) butternut squash noodles
1 1/2
cups
PICS unsalted chicken stock
2
tablespoons
PICS maple syrup
1/2
teaspoon
Full Circle nutmeg
1/2
teaspoon
PICS salt
1
cup shredded skinless
Market 32 rotisserie chicken breast meat
1/4
cup crème fraîche
1.In large skillet, toast pepitas over medium-high heat 4 minutes or until lightly browned and fragrant, stirring frequently; transfer to plate to cool.
2.In medium saucepot, heat oil over medium-high heat Add shallot; cook and stir 1 minute. Add garlic; cook and stir 30 seconds. Add squash; cook and stir 5 minutes. Add stock and heat to simmer; cook 5 minutes or until squash is tender. Stir in syrup, nutmeg and salt; cook 1 minute. Transfer squash mixture to blender; blend on high 2 minutes or until smooth, adding 1 to 2 tablespoons water, if necessary. Makes about 3 cups.
3.Serve soup topped with chicken, crème fraîche and pepitas.
Approximate nutritional values per serving:
301 Calories, 17g Fat (6g Saturated), 52mg Cholesterol, 442mg Sodium, 21g Carbohydrates, 4g Fiber, 18g Protein