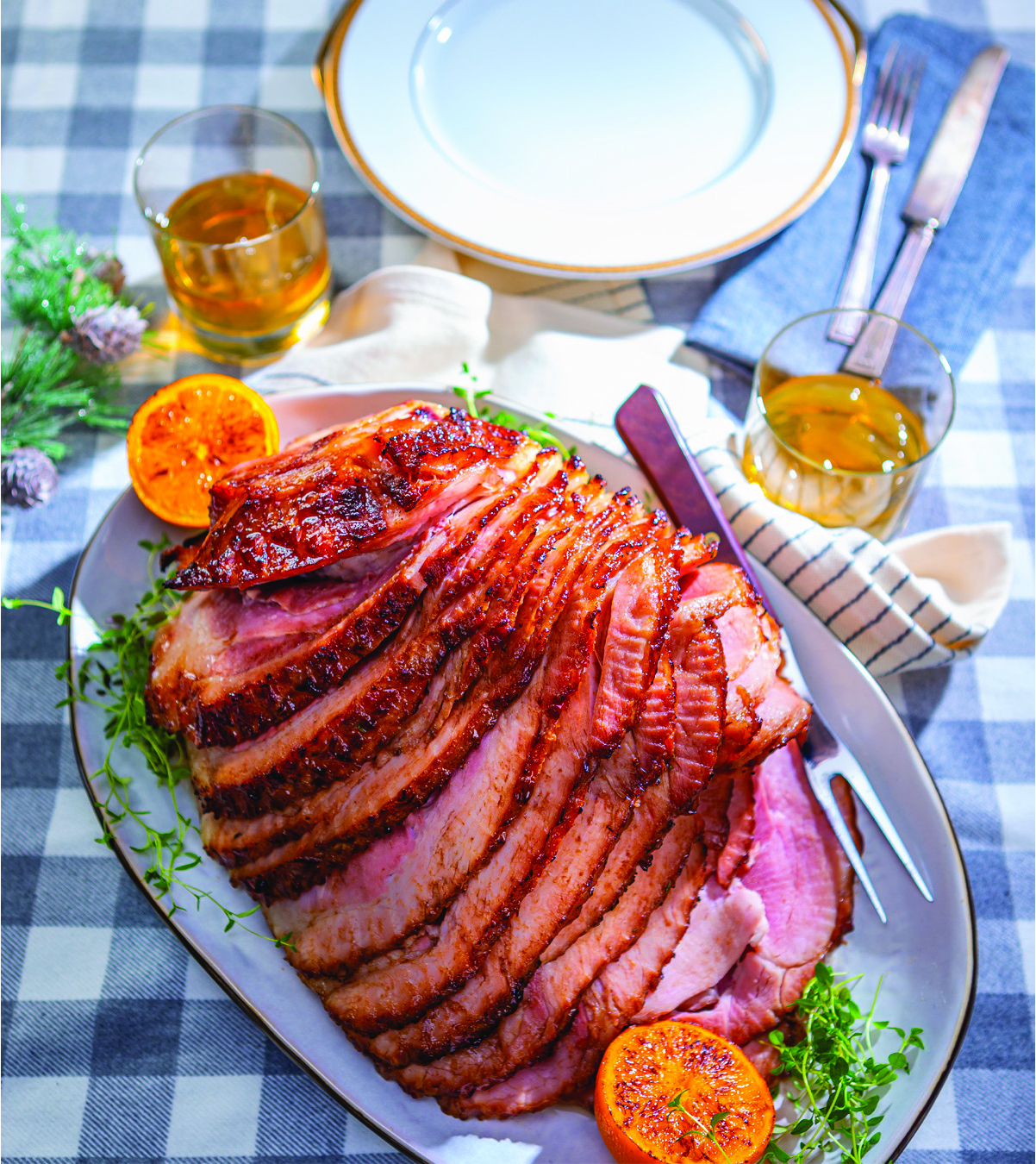 Shop Ingredients Click to See How-To Video!


Bourbon and Cola Glazed Ham
Prep: 15 minutes plus standing
Bake: 1 hour 45 minutes • Serves: 10
1
(8-pound) spiral sliced bone-in half ham
3
cans (12 ounces each) cola
1
large orange, cut in half
4
sprigs fresh thyme
1
jar (8 ounces) orange marmalade
1/4
cup light brown sugar
3
tablespoons bourbon
1-1/2
teaspoons dry mustard
1
teaspoon dried thyme
1/4
teaspoon ground cloves
1.Preheat oven to 325°. Place ham, cut side down, on rack in large roasting pan. Pour 2 cans cola and squeeze juice from orange into pan. Add orange halves and thyme sprigs to pan. Bake ham 1 hour or until internal temperature reaches 90°.

2.Meanwhile, in small saucepot, heat remaining can of cola over medium-low heat 30 minutes or until reduced by half. Stir remaining ingredients into saucepot and simmer 3 to 5 minutes, or until brown sugar dissolves; remove from heat.

3.Remove ham from oven. With sharp knife, lightly score outside of ham, making parallel 1/2-inch-deep incisions in crosshatch pattern. Brush ham with some of the glaze and return ham to oven. Bake 45 minutes longer or until internal temperature reaches 130°, brushing ham with remaining glaze every 15 minutes. Carefully place ham on serving platter. Cover loosely with foil and let stand 15 minutes before serving. Internal temperature will rise to 140° upon standing.


Approximate nutritional values per serving: 

433 Calories, 12g Fat (4g Saturated), 163mg Cholesterol,
3315mg Sodium, 22g Carbohydrates, 2g Fiber, 57g Protein