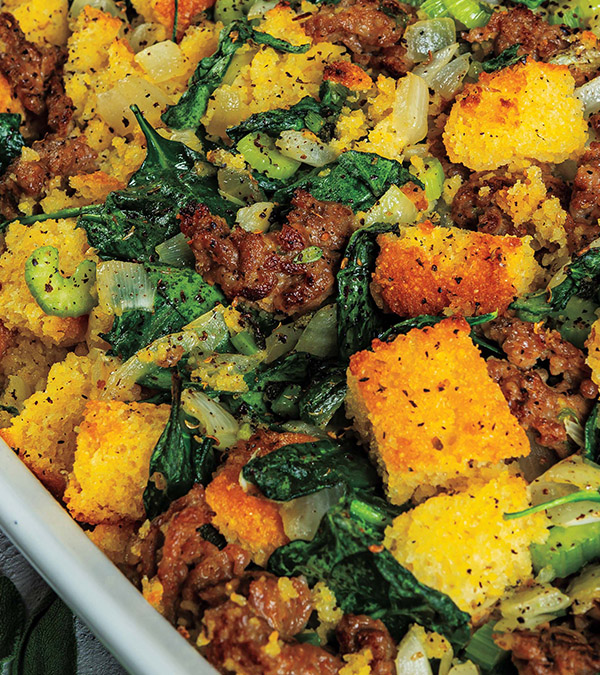 Cornbread, Sausage & Spinach Stuffing
Prep: 30 minutes
Bake: 45 minutes • Serves: 12
PICS nonstick cooking spray
1
pound
Market 32 Italian sausage
or sausage links, casing removed and crumbled
4
tablespoons
PICS unsalted butter
2
medium celery ribs, finely chopped
2
medium yellow onions, finely chopped
3
garlic cloves, minced
10
cups cubed cornbread, toasted (1-inch cubes)
1
bag (5 to 6 ounces)
Full Circle baby spinach
1-1/2
tablespoons chopped fresh sage
1-1/2
tablespoons chopped fresh thyme
1-1/2
teaspoons
PICS salt
3/4
teaspoon
PICS ground black pepper
2
PICS large eggs
, beaten
3
cups
PICS chicken broth
1.Preheat oven to 350°. Spray 13 x 9-inch baking dish with cooking spray.

2. In large skillet, cook sausage over medium-high heat 8 minutes or until browned, stirring occasionally; transfer to bowl.

3. In same skillet with drippings, melt butter over medium-high heat. Add celery and onions; cook 10 minutes or until tender, stirring occasionally. Add garlic; cook 1 minute.

4. In large bowl, toss cornbread, sausage, spinach, hot vegetable mixture, sage, thyme, salt and pepper until spinach starts to wilt. Add eggs and broth; toss until combined. Spread in prepared dish; cover tightly with aluminum foil.

5. Bake stuffing 30 minutes; uncover and bake 15 minutes longer or until top is lightly browned. Makes about 15 cups.


Approximate nutritional values per serving (1-1/4 cups):
400 Calories, 23g Fat, 7g Saturated Fat, 107mg Cholesterol, 852mg Sodium,
39g Carbohydrates, 1g Fiber, 18g Sugars, 16g Added Sugars, 11g Protein

Chef Tip:
To toast cornbread: Spread cornbread on a rimmed baking pan; bake at 450° for 12 minutes or until toasted, stirring once.