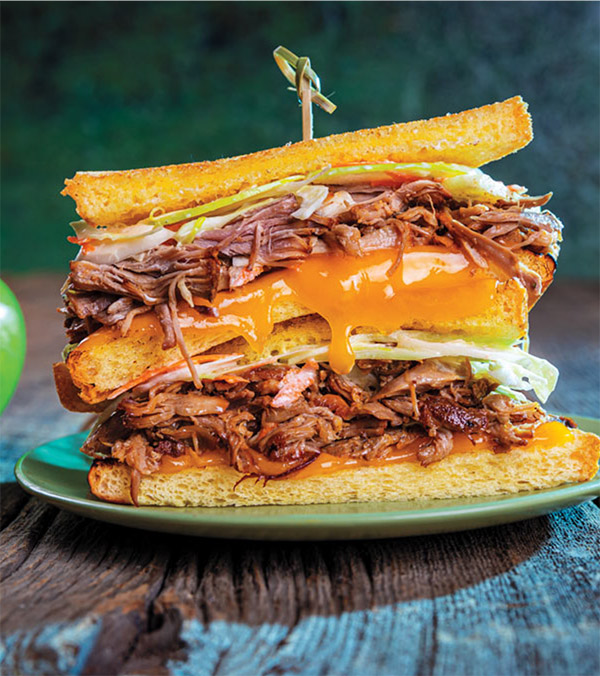 Shop Ingredients Click to See How-To Video!



Slow Cooker Apple Cider-Pulled Pork Grilled Cheese
Prep: 20 minutes
Slow Cook/Cook/Bake: 8 hours 11 minutes • Serves: 8
1
boneless pork shoulder roast (about 2 pounds)
1
tablespoon plus 1 teaspoon slow cookers BBQ pulled pork seasoning
1-1/2
cups Home.Grown Apple Cider
2
medium Granny Smith apples, halved, cored and thinly sliced
2
cups coleslaw mix
1/2
cup plain nonfat Greek yogurt
1/4
cup mayonnaise
1/2
teaspoon salt
16
slices brioche bread
1/2
cup unsalted butter
16
slices sharp Cheddar cheese
1.In 5- to 6-quart slow cooker, add pork; sprinkle with seasoning. Pour cider around pork; cover and cook on high 4 hours or low 8 hours. Transfer pork to large bowl; with 2 forks, shred into bite-sized pieces. Pour 1/2 the liquid from slow cooker over pork; toss to combine. Makes about 4 cups.

2.Preheat oven to 375°. In medium bowl, toss apples, coleslaw, yogurt, mayonnaise and salt. Makes about 4 cups.

3.Spread 1 side of bread slices with butter; place buttered side down on work surface. Top bread with cheese; top half with pork mixture, apple mixture and remaining 8 bread slices, buttered side up.

4.Heat griddle or large skillet over medium-low heat; in batches, cook sandwiches 4 minutes or until bread is golden brown, turning once. Transfer sandwiches to rimmed baking pan; bake 3 minutes or until cheese melts.


Approximate nutritional values per serving (1 sandwich):
775 Calories, 49g Fat (23g Saturated), 148mg Cholesterol,
997mg Sodium, 49g Carbohydrates, 4g Fiber, 17g Sugars, 35g Protein