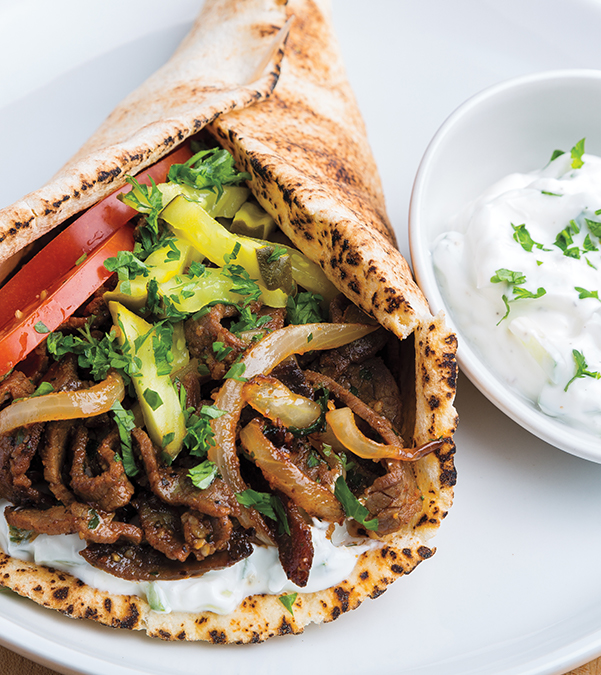 Spiced Roast Beef Wraps
Prep: 10 minutes
Cooks: 10 minutes • Serves: 4
8
garlic cloves, minced
1
cup
PICS plain Greek yogurt
1/2
tablespoon fresh lemon juice
2
tablespoons
PICS olive oil
1
large
Market 32 white onion
, thinly sliced
3/4
pound deli sliced
Market 32 roast beef
1
teaspoon
PICS ground cumin
1/2
teaspoon
PICS fresh ground black pepper
1/2
teaspoon
PICS ground cinnamon
4
pieces flax oat bran and whole wheat lavash bread or favorite wraps
2
Roma tomatoes, thinly sliced
1/2
cup chopped
PICS dill pickles
1
tablespoon chopped fresh parsley for serving
1.In small bowl, stir garlic, yogurt and lemon juice. Makes about 1¼ cups.
2.In large skillet, heat oil over medium-high heat; add onion and cook 5 minutes or until starting to brown, stirring occasionally. Add beef, cumin, pepper and cinnamon; cook 5 minutes or until onion is lightly charred, stirring occasionally.
3.Spread 1 side of bread with yogurt mixture; place beef mixture, tomatoes, pickles and parsley on 1 end of bread. Roll up bread to enclose filling; cut in half and secure with toothpicks.
Approximate nutritional values per serving:
394 Calories, 16g Fat (4g Saturated), 52mg Cholesterol, 1417mg Sodium, 31g Carbohydrates, 10g Fiber, 33g Protein