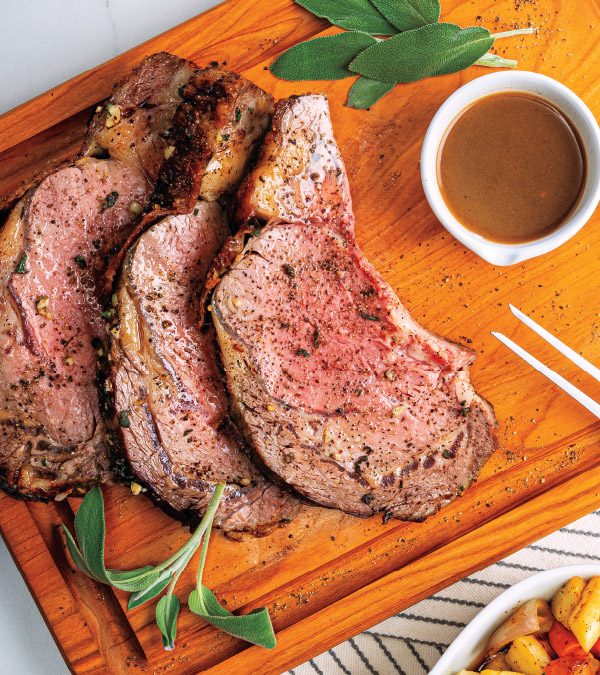 Click to See How-To Video!



Apple Cider-Sage Beef Roast
Prep: 25 minutes plus standing
Roast: 1 hour 50 minutes • Serves: 6
2
large garlic cloves, minced
1/4
cup
PICS olive oil
3
tablespoons plus 2 teaspoons chopped fresh sage plus additional for garnish (optional)
1-1/2
teaspoons
PICS salt
1-1/2
teaspoons
PICS pepper
1
semi-boneless rib roast (about 5 pounds)
6
Market 32 carrots
, cut into 3/4-inch pieces
3
parsnips, cut into 3/4-inch pieces
3
shallots, coarsely chopped
2
cups
PICS beef stock
2
cups
Market 32 apple cider
1. Adjust oven rack to lowest position; preheat oven to 450°. In small bowl, stir garlic, oil, 3 tablespoons sage, and 1 teaspoon each salt and pepper; rub over rib roast.

2. In roasting pan, toss carrots, parsnips, shallots, stock, cider and remaining 1/2 teaspoon each salt and pepper; place rib roast, bone side down, on top of vegetables and roast 20 minutes or until outside is golden brown. Reduce oven temperature to 350°; roast 1-1/2 hours or until internal temperature of rib roast reaches 135° for medium-rare. Transfer rib roast to cutting board; tent with aluminum foil and let stand 20 minutes. (Internal temperature will rise to 145° upon standing.)

3. With slotted spoon, transfer vegetables to serving platter; sprinkle with remaining 2 teaspoons sage and tent with aluminum foil. Makes about 4-1/2 cups.

4. Skim off and discard fat from juices in roasting pan; strain juices through fine-mesh strainer into serving dish. Makes about 1-1/4 cups.

5. Remove ribs from rib roast; carve rib roast lengthwise into 6 (3/4-inch-thick) slices. Serve rib roast over vegetables drizzled with some sauce and sprinkled with sage, if desired, along with remaining sauce.


Approximate nutritional values per serving (1 slice rib roast, 3/4 cup vegetables, about 3 tablespoons sauce):
695 Calories, 39g Fat (13g Saturated), 166mg Cholesterol, 928mg Sodium,
31g Carbohydrates, 5g Fiber, 15g Sugars, 0g Added Sugars, 58g Protein