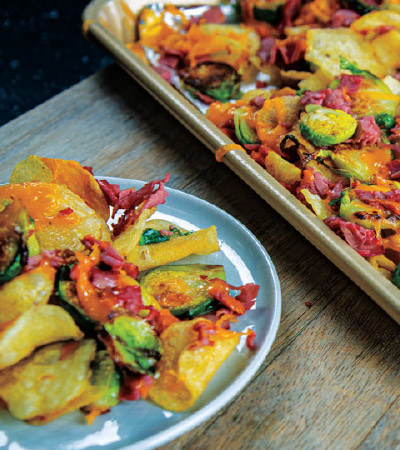 Shop Ingredients Click to See How-To Video!


Irish Nachos with Crispy Brussels Sprouts
Prep: 15 minutes
Bake: 20 minutes • Serves: 6
PICS™ Original Non-Stick Cooking Spray
1
pound Brussels sprouts, trimmed and thinly sliced
1
tablespoon
PICS™ 100% Pure Olive Oil
1/4
teaspoon kosher salt
1
bag (8 ounces)
PICS™ Original Kettle Chips
2
cups
PICS™ Shredded Sharp Cheddar Cheese
1-1/2
cups chopped
M32 Deli Corned Beef
(1/2 pound)
1/2
cup
PICS™ Plain Sour Cream
1
tablespoon chopped fresh chives
1.Preheat oven to 450°. Line 2 rimmed baking pans with aluminum foil; spray with cooking spray.

2.In medium bowl, toss Brussels sprouts, oil and salt; spread on 1 prepared pan. Bake 15 minutes or until golden brown and crisp.

3.Spread chips on remaining prepared pan; top with cheese, corned beef and Brussels sprouts. Bake 5 minutes or until heated through and cheese melts. Makes about 9 cups.

4.Serve nachos topped with sour cream and chives.


Approximate nutritional values per serving (1-1/2 cups):
515 Calories, 32g Fat (7g Saturated), 76mg Cholesterol,
803mg Sodium, 27g Carbohydrates, 4g Fiber, 2g Sugars, 19g Protein