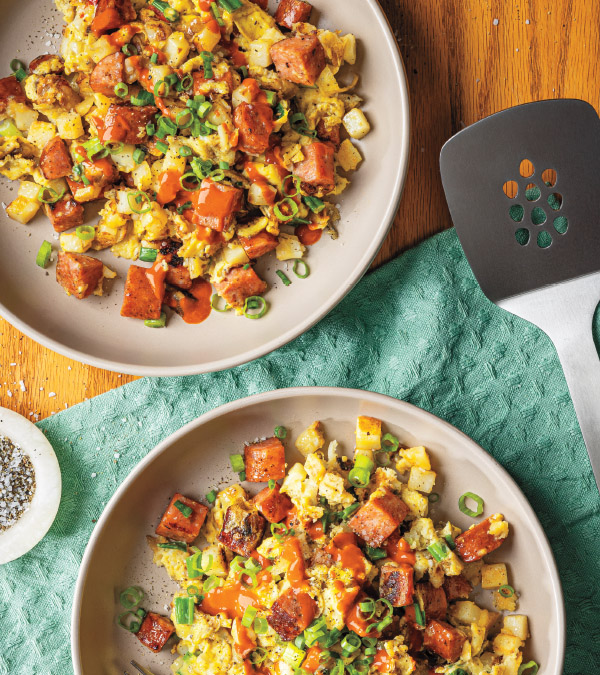 Maple Sausage Breakfast Scramble
Prep: 10 minutes
Grill: 13 minutes • Serves: 4
1
tablespoon
PICS olive oil
2/3
(13.5-ounce) package smoked pork sausage, coarsely chopped
2
cups frozen potatoes O'Brien
1-1/2
tablespoons
PICS maple syrup
8
PICS large eggs
3
green onions, thinly sliced plus additional for serving (optional)
1/4
teaspoon
PICS kosher salt
1/4
teaspoon
PICS ground black pepper
Hot sauce for serving (optional)
1. Preheat outdoor flat-top grill or griddle over medium heat; spread with oil. Add sausage and potatoes; cook 8 minutes or until lightly browned, stirring occasionally. Stir in syrup; cook 1 minute or until browned.

2. In medium bowl, whisk eggs, onions, salt and pepper. Add egg mixture to sausage mixture on griddle; cook 4 minutes or to desired doneness, stirring occasionally to scramble. Makes about 6 cups.

3. Serve scramble topped with onions and hot sauce, if desired.


Approximate nutritional values per serving (1-1/2 cups):
481 Calories, 32g Fat (10g Saturated), 412mg Cholesterol, 808mg Sodium,
25g Carbohydrates, 2g Fiber, 7g Sugars, 5g Added Sugars, 22g Protein