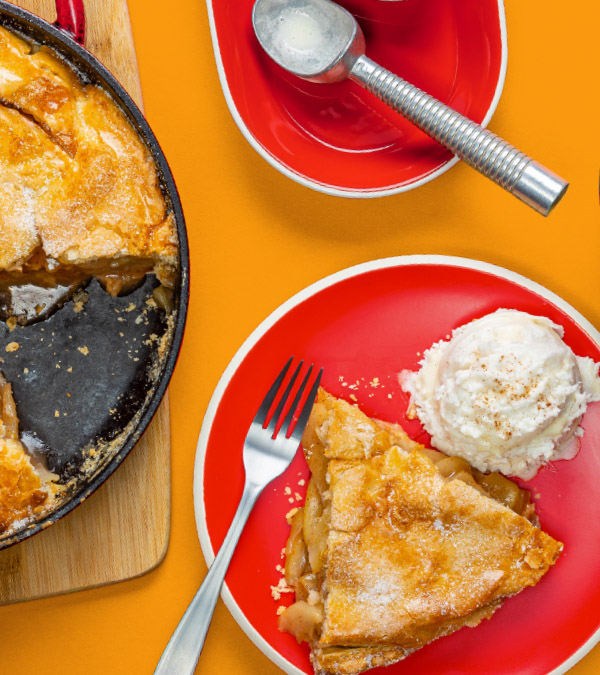 Skillet Pear Pie with Vanilla Ice Cream
Prep: 20 minutes plus cooling
Bake: 1 hour • Serves: 8
1
package (14.1 ounces)
PICS refrigerated pie crusts
6
large Bosc pears, peeled, cored and thinly sliced
1-1/4
cups
PICS granulated sugar
1/4
cup
PICS enriched all-purpose flour
2
tablespoons fresh lemon juice
1
teaspoon
PICS ground cinnamon
1/2
teaspoon ground nutmeg
PICS nonstick cooking spray
1
PICS large egg
2
cups
PICS vanilla ice cream
1.Let pie crusts stand at room temperature as label directs to soften slightly. Position oven rack to middle position; preheat oven to 425°.

2.In large bowl, toss pears, 1 cup sugar, flour, lemon juice, cinnamon and nutmeg.

3.Spray 10-inch cast-iron skillet with cooking spray. Unroll 1 pie crust and place in prepared skillet; fill with pear mixture. Unroll second pie crust and place over pear mixture; fold overhanging sides of crust under and pinch edges together to seal.

4.In small bowl, whisk egg and 1 tablespoon water. Brush top of pie with egg mixture; sprinkle with remaining ¼ cup sugar. With paring knife, cut 8 vents in top of pie; bake 15 minutes. Reduce oven temperature to 350°; bake pie 45 minutes or until filling is bubbling and top is golden brown. Cool 20 minutes on wire rack.

5.Cut pie into 8 slices; serve topped with ice cream.


Approximate nutritional values per serving (1 slice pie, 1/4 cup ice cream):
537 Calories, 18g Fat (8g Saturated), 33mg Cholesterol,
302mg Sodium, 94g Carbohydrates, 5g Fiber, 5g Protein