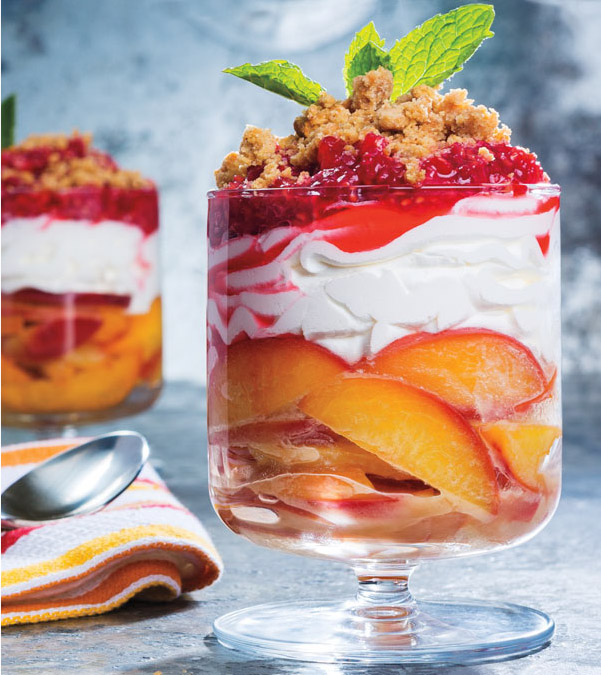 Shop Ingredients Click to See How-To Video!


Brown Sugar Peach Parfait with Smashed Raspberries & Salted Graham Cracker Crumble
Prep: 15 minutes
Bake: 13 minutes • Serves: 4
4
sheets cinnamon graham crackers
1/4
cup all-purpose flour
1/2
teaspoon salt
6
tablespoons unsalted butter, melted
2
ripe peaches, halved, pitted and sliced
2
tablespoons packed light brown sugar
1-1/2
tablespoons fresh lemon juice
1
cup fresh raspberries
1-1/2
cups thawed frozen whipped topping
1.Preheat oven to 325°. Line rimmed baking pan with parchment paper. In food processor, pulse graham crackers, flour and salt until fine crumbs form; transfer to medium bowl and stir in 4 tablespoons melted butter. Spread graham cracker mixture on prepared pan. Bake 13 minutes or until golden brown, rotating once; cool.

2.In medium bowl, toss peaches, sugar, 1 tablespoon lemon juice and remaining 2 tablespoons butter. Heat large skillet over medium heat; add peach mixture and cook 5 minutes or until peaches are soft. Cool slightly.

3.In small bowl, with fork, mash raspberries and remaining 1/2 tablespoon lemon juice.

4.In 4 (5-ounce) glasses, layer peaches, whipped topping, raspberry mixture and graham cracker crumble.


Approximate nutritional values per serving: 

389 Calories, 24g Fat (16g Saturated), 46mg Cholesterol,
360mg Sodium, 41g Carbohydrates, 3g Fiber, 24g Sugars,
16g Added Sugars, 3g Protein