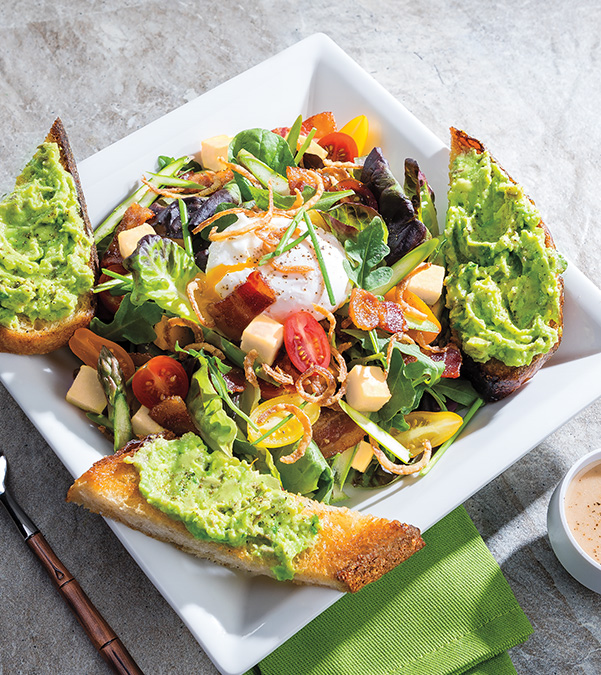 Breakfast Salad with Avocado Toast
Prep: 20 minutes
Cook: 10 minutes • Serves: 4
4
slices
PICS bacon
, cut crosswise into 1/2-inch pieces
2
large ripe avocados, peeled and pitted
1
teaspoon fresh lemon juice
1/2
teaspoon plus teaspoon PICS salt
3/4
teaspoon
PICS ground black pepper
1
tablespoon
PICS distilled white vinegar
4
PICS large eggs
2
(1/2-inch-thick) slices sourdough boule or French bread
1
package (4- to 5-ounces)
Full Circle baby spring mix or arugula
8
asparagus spears, thinly bias-sliced
1/2
cup lite red wine vinaigrette
1
cup halved
Full Circle red and/or yellow grape tomatoes
1/2
cup
PICS sharp white Cheddar cheese cubes
PICS crispy fried onions
and cut fresh chives for garnish (optional)
1.In large skillet, cook bacon over medium-high heat 5 minutes or until crisp, stirring frequently; transfer to paper towel-lined plate to drain.
2.In large bowl, mash avocado, lemon juice, 1/2 teaspoon salt and 1/2 teaspoon pepper. Makes about 1-1/2 cups.
3.In large skillet with 2-inch high sides, add water to fill halfway, vinegar and remaining 1/8 teaspoon salt; heat to a boil. Carefully crack eggs, 1 at a time, into small cup. Slowly slide eggs into water while immersing cup slightly in water. Cover tightly with lid and remove from heat. Let stand 4 minutes or until egg whites are cooked through and yolks are slightly soft or to desired doneness.
4.Toast bread; cut each slice into 4 pieces and spread with avocado mixture. In large bowl, toss spring mix, asparagus, vinaigrette and bacon; divide onto 4 plates. Top salads with poached eggs, tomatoes and cheese; sprinkle with remaining ¼ teaspoon pepper. Garnish salads with fried onions and chives, if desired; serve with Avocado Toast.

Approximate nutritional values per serving (1 salad, 2 pieces Avocado Toast):
453 Calories, 32g Fat (8g Saturated), 212mg Cholesterol, 1089mg Sodium,
30g Carbohydrates, 10g Fiber, 19g Protein