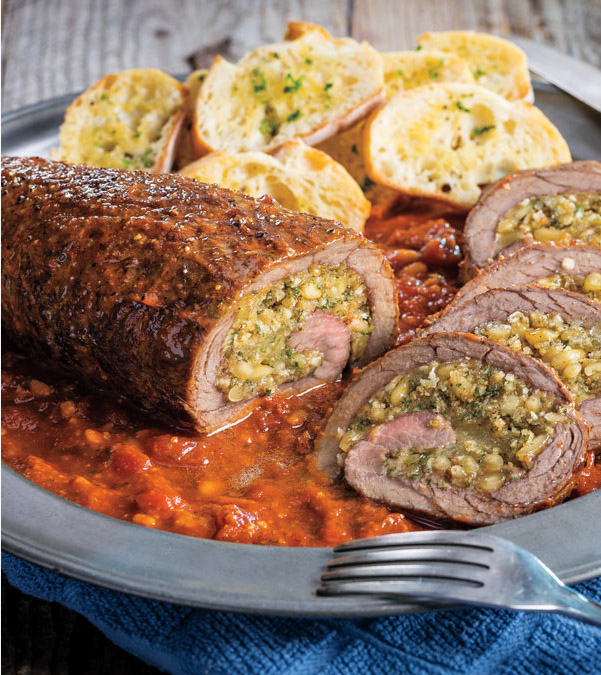 Shop Ingredients Click to See How-To Video!


Braciole
Prep: 30 minutes plus standing
Bake: 40 minutes • Serves: 6
2
garlic cloves, minced
1/2
cup Italian breadcrumbs
1/2
cup toasted pine nuts
1/4
cup grated Parmesan cheese
1/4
cup grated provolone cheese
3
tablespoons olive oil
2
tablespoons chopped fresh parsley
1-1/2
pounds top round steak
3/4
teaspoon kosher salt
1/2
teaspoon ground black pepper
1
cup dry white wine, such as Chardonnay or Sauvignon Blanc
3
cups marinara sauce
1.In medium bowl, combine garlic, breadcrumbs, pine nuts, cheeses, 2 tablespoons oil and parsley.

2.Preheat oven to 350°. Lay beef flat between 2 pieces of plastic wrap on cutting board; with flat end of meat mallet, pound beef to 1/2-inch thickness. Remove plastic wrap; sprinkle both sides with salt and pepper. Spread breadcrumb mixture over beef, leaving about 1-1/2-inch border around edges. Starting at long side, roll up beef and filling to form a pinwheel. With kitchen string, tie beef.

3.In large oven-safe skillet, heat remaining 1 tablespoon oil over medium-high heat; add beef and cook 5 minutes, turning to sear all sides. Add wine; cook 2 minutes, scraping bottom of skillet with wooden spoon. Add sauce and cover tightly; bake 40 minutes or until beef is cooked through, turning and basting braciole with sauce every 15 minutes.

4.Transfer braciole to cutting board; let stand 10 minutes. Remove string and cut into ½-inch thick slices; serve with sauce from skillet.


Approximate nutritional values per serving: 

471 Calories, 26g Fat (6g Saturated), 73mg Cholesterol,
1094mg Sodium, 20g Carbohydrates, 1g Fiber, 8g Sugars,
2g Added Sugars, 32g Protein