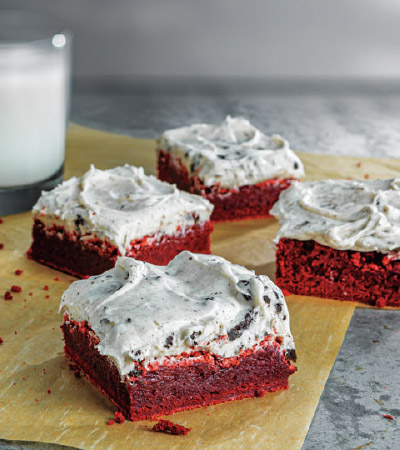 Shop Ingredients Click to See How-To Video!


Red Velvet Brownies with Cookies & Cream Frosting
Prep: 20 minutes plus cooling
Bake: 30 minutes • Serves: 16
PICS™ Original Non-Stick Cooking Spray
1/2
(12-ounce) bag
PICS™ Real Semi-Sweet Chocolate Morsels
3/4
cup
PICS™ Sweet Cream Unsalted Butter
(1-1/2 sticks), softened
4
PICS™ Grade A Large Eggs
1/2
cups
PICS™ Pure Cane Granulated Sugar
1
teaspoon P
ICS™ Pure Vanilla Extract
1-1/4
cups
PICS™ All Purpose Flour
1
teaspoon
PICS™ Baking Powder
1/4
teaspoon
PICS™ Salt
2
tablespoons red food coloring
1
package (8 ounces)
PICS™ Plain Cream Cheese
, softened
1-1/2
cups
PICS™ Confectioners Sugar
6
PICS™ Stuffed Chocolate Sandwich Cookies
, chopped
1.Preheat oven to 350°. Spray 9-inch square baking dish with cooking spray.

2.In small saucepan, cook chocolate morsels and 1/2 cup butter over low heat 2 minutes or until most morsels are melted, stirring frequently with rubber spatula; remove from heat and stir until all morsels are melted.

3.In large bowl, whisk eggs, granulated sugar and vanilla extract; whisk in chocolate mixture. Whisk in flour, baking powder and salt; whisk in food coloring. Pour batter into prepared dish; bake 25 minutes or until set. Cool completely in dish on wire rack.

4.In large bowl, with mixer on medium speed, beat cream cheese, confectioners sugar and remaining 1/4 cup butter 2 minutes or until almost incorporated. Increase speed to medium-high; beat 2 minutes or until light and fluffy. Add cookies; beat on medium speed 1 minute or until incorporated.

5.Spread cooled brownies with frosting; cut into 16 squares. Makes 16 brownies.


Approximate nutritional values per serving (1 brownie):
370 Calories, 19g Fat (11g Saturated), 84mg Cholesterol,
147mg Sodium, 49g Carbohydrates, 1g Fiber, 38g Sugars, 4g Protein