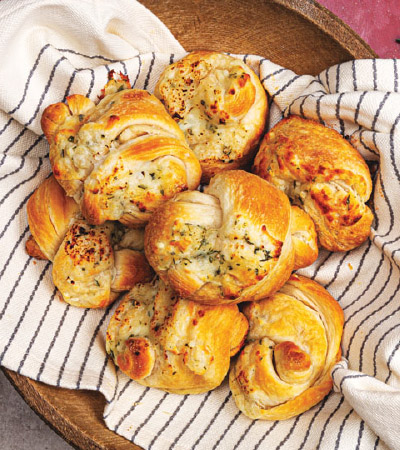 Shop Ingredients Click to See How-To Video!


Cheesy Garlic Knots
Prep: 20 minutes
Bake: 15 minutes • Serves: 8
PICS™ Original Non-Stick Cooking Spray
1/2
cup
PICS™ Shredded Low-Moisture Whole Milk Mozzarella Cheese
1/2
cup
PICS™ Sweet Cream Unsalted Butter
, softened
1/4
cup
PICS™ Grated Parmesan Cheese
1
tablespoon minced garlic
1
teaspoon chopped fresh oregano
1
teaspoon chopped fresh thyme
1
can (16 ounces)
PICS™ Jumbo Buttermilk Biscuits
1.Preheat oven to 375°. Line rimmed baking pan with parchment paper; spray with cooking spray. In large bowl, stir mozzarella cheese, butter, Parmesan cheese, garlic, oregano and thyme. Makes about 1 cup.

2.On floured work surface, flatten each biscuit to 1/4-inch thick with hands or rolling pin; spread each with 1-1/2 tablespoons cheese mixture. Fold biscuits in half to enclose cheese mixture; roll each biscuit into an 8-inch-long rope and tie each into a knot. Place knots on prepared pan; top with remaining 1/4 cup cheese mixture.

3.Bake knots 15 minutes or until golden brown. Makes 8 knots.


Approximate nutritional values per serving (1 knot):
271 Calories, 15g Fat (8g Saturated), 38mg Cholesterol,
578mg Sodium, 28g Carbohydrates, 0g Fiber, 4g Sugars, 6g Protein