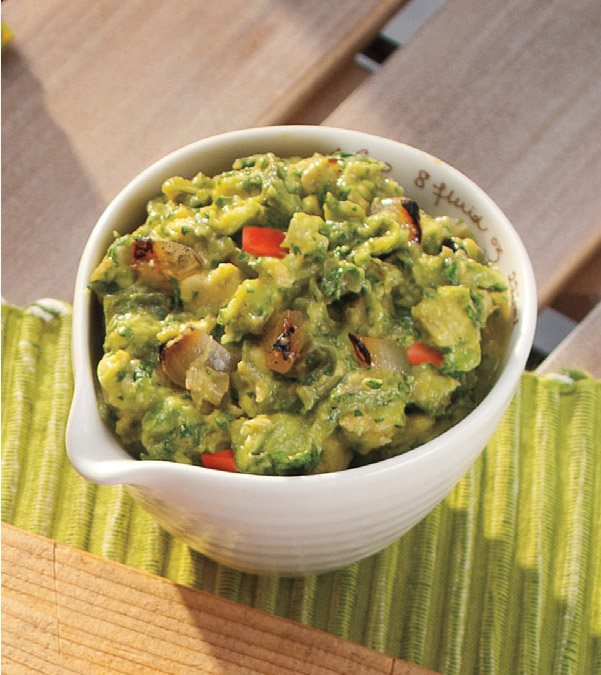 Shop Ingredients



Click to See How-To Video!
Roasted Guacamole
Prep: 25 minutes
Roast: 35 minutes • Makes: about 3 cups
Nonstick cooking spray
3
teaspoons olive oil
2
garlic cloves, unpeeled
1/2
small red onion, cut into 1/4-inch-thick slices (about 1 cup)
1/2
teaspoon plus teaspoon kosher salt
1
pinch ground black pepper
4
medium ripe avocados
1
small jalapeño pepper, stem end trimmed
3
tablespoons fresh lime juice
1
medium tomato, diced (about 1 cup)
1
tablespoon chopped fresh cilantro leaves
1.Preheat oven to 400°; spray rimmed baking pan with nonstick cooking spray. From 1 teaspoon oil, coat garlic with oil and place on prepared baking pan; in small bowl, toss onion with remainder of 1 teaspoon oil, 1/8 teaspoon salt and pepper. Spread onion in single layer on prepared baking pan and roast 10 minutes; stir onions.

2.Cut each avocado lengthwise in half around seed. Twist halves in opposite directions to separate. Slip spoon under seed to remove and discard. With large spoon, remove avocado flesh in whole pieces; cut each piece lengthwise in half and add to baking pan, cut side up. Drizzle avocado and coat jalapeño pepper with remaining 2 teaspoons oil; add jalapeño to baking pan. Roast 15 minutes longer, turning jalapeño and rotating baking pan halfway through roasting.

3. Transfer avocado to same bowl; add lime juice and remaining 1/2 teaspoon salt. When cool enough to handle, squeeze garlic from skins into bowl. With fork, mash avocado until mixture is slightly chunky. Dice onion and finely chop jalapeño; fold tomato, cilantro, onion and jalapeño into avocado mixture. Refrigerate at least 1 hour or up to overnight before serving.


Approximate nutritional values per serving (1/4 cup):
125 Calories, 11g Fat (2g Saturated), 0mg Cholesterol,
106mg Sodium, 7g Carbohydrates, 2g Fiber, 2g Protein