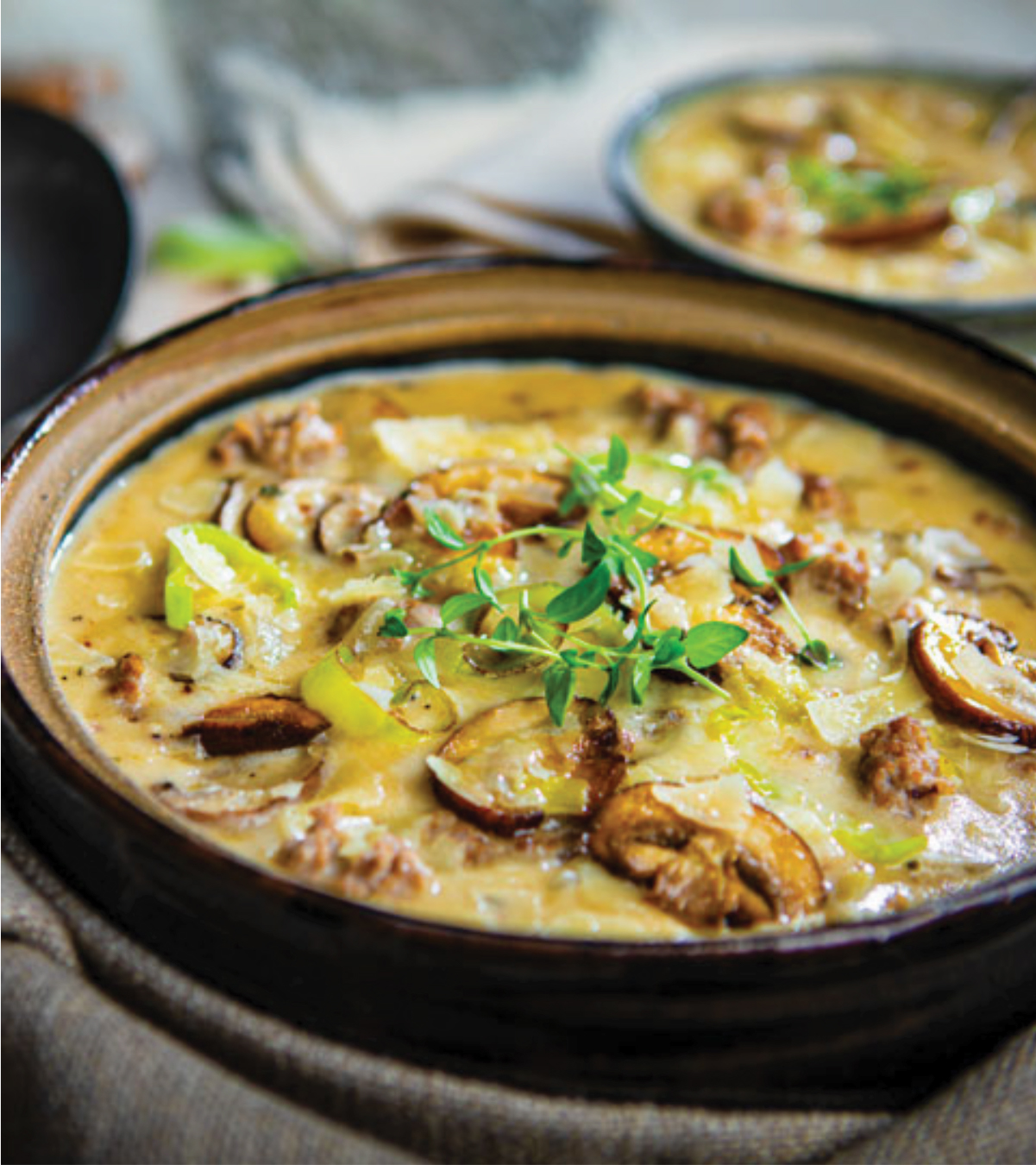 Shop Ingredients Click to See How-To Video!


Creamy Sausage & Mushroom Soup
Prep: 20 minutes
Cook: 45 minutes • Serves: 8
1
package (16 ounces) ground hot Italian sausage 1 large leek, chopped
1
large yellow onion, chopped
8
garlic cloves, chopped
1
tablespoon chopped fresh thyme plus sprigs for garnish
2
packages (8 ounces each) sliced baby bella mushrooms
2
tablespoons olive oil
1/2
teaspoon kosher salt
1/2
teaspoon fresh ground black pepper
2
tablespoons unsalted butter
1/4
cup all-purpose flour
1
cup dry white wine such as Sauvignon Blanc 5 cups less-sodium chicken broth
1
cup heavy cream
Shaved Parmesan cheese for serving (optional)
1.In large saucepot or Dutch oven, cook sausage over medium heat 5 minutes or until starting to brown, breaking up sausage with side of spoon. Add leek and onion; cook 5 minutes or until translucent, stirring occasionally. Add garlic and thyme; cook 1 minute or until fragrant, stirring frequently. Transfer sausage mixture to plate.

2.In large bowl, toss mushrooms, oil, salt and pepper. In same saucepot, in 2 batches, cook mushrooms over medium-high heat 6 minutes or until browned, stirring occasionally; return mushrooms to saucepot. Add butter and sausage mixture; sprinkle with flour and cook 1 minute, stirring frequently. Add wine; cook 5 minutes or until almost all liquid is absorbed, stirring frequently. Add broth and cream; heat to a simmer, stirring occasionally. Reduce heat to medium-low; cook 15 minutes or until slightly thickened, stirring occasionally. Makes about 10 cups.

3.Serve soup topped with cheese, if desired, garnished with thyme sprigs.


Approximate nutritional values per serving (1-1/4 cups):
342 Calories, 25g Fat (12g Saturated), 58mg Cholesterol,
695mg Sodium, 14g Carbohydrates, 2g Fiber, 5g Sugars, 11g Protein