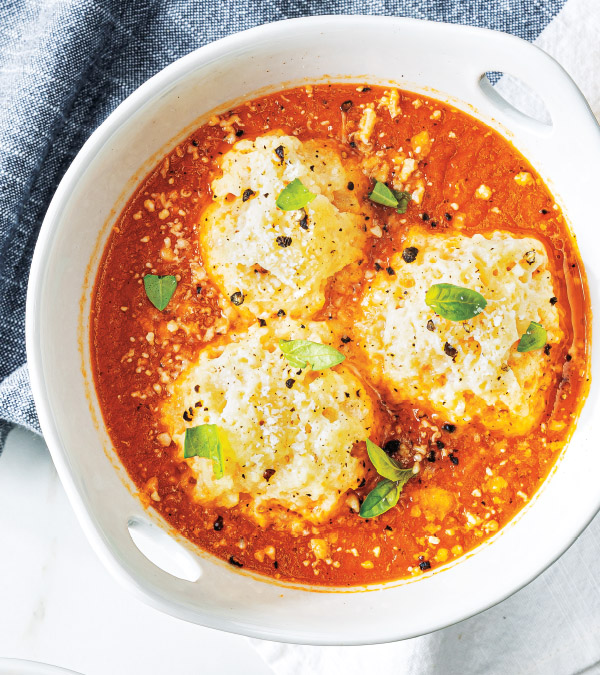 Basil-Tomato Soup with Cheesy Matzo Balls
Prep: 25 minutes plus chilling
Cook: 20 minutes • Serves: 8
4
PICS large eggs
1/4
cup plus 1 tablespoon
PICS olive oil
1
box (5 ounces) matzo ball mix
1/4
cup
PICS grated Parmesan cheese
plus additional for garnish (optional)
1/4
cup
PICS shredded mozzarella cheese
1
cup
Market 32 chopped carrots
1
cup
Market 32 chopped yellow onion
1/2
teaspoon
PICS salt
1/2
teaspoon
PICS black pepper
1
tablespoon
PICS tomato paste
1
container (32 ounces)
PICS vegetable stock
2
cans (14.5 ounces each) diced fire roasted tomatoes
2
tablespoons chopped fresh basil
1. In large bowl, whisk eggs and 1/4 cup oil; stir in both packets of matzo ball mix and cheeses. Refrigerate matzo mixture 15 minutes.

2. In large saucepot, heat 10 cups water to a boil over medium-high heat. With wet hands, shape matzo mixture into 24 (1-inch) balls. Add matzo balls to saucepot and reduce heat to medium; cover and cook 20 minutes or until cooked through. With slotted spoon, transfer to large plate.

3. In separate large saucepot, heat remaining 1 tablespoon oil over medium heat. Add carrots, onion, salt and pepper; cook 5 minutes or until vegetables are tender, stirring frequently. Add tomato paste; cook 2 minutes or until fragrant, stirring occasionally. Add stock and tomatoes with their juice, increase heat to medium-high and heat to a boil. Reduce heat to medium-low; cook 10 minutes, stirring occasionally. With blender or stick blender, purée soup until almost smooth; stir in basil. Makes about 8 cups.

4. Serve matzo balls in soup sprinkled with Parmesan cheese, if desired.


Approximate nutritional values per serving (1 cup soup, 3 matzo balls):
237 Calories, 13g Fat (3g Saturated), 97mg Cholesterol, 1445mg Sodium,
24g Carbohydrates, 3g Fiber, 5g Sugars, 0g Added Sugars, 7g Protein