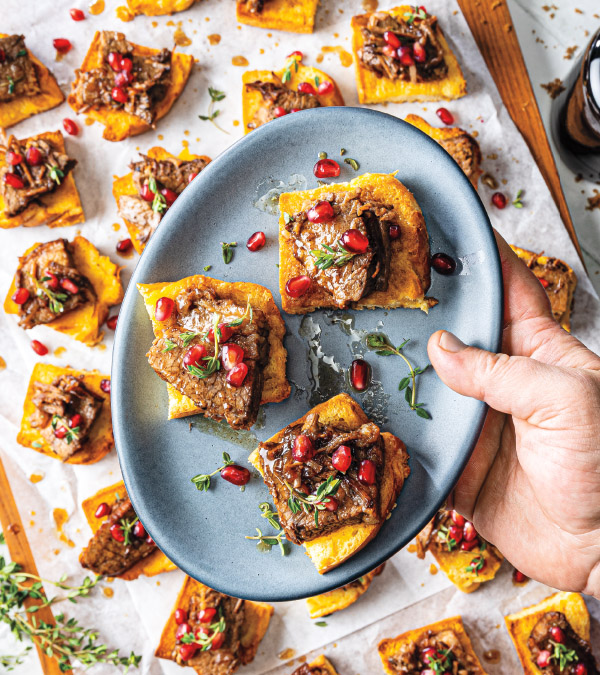 Balsamic-Brown Sugar Brisket Bites with Pomegranate & Onion
Prep: 30 minutes plus standing
Slow Cook: 4 hours • Serves: 14
1/4
cup
PICS vegetable oil
1/2
fresh flat-cut beef brisket (about 2-1/2 to 3 pounds)
1/2
teaspoon
PICS kosher salt
1/2
teaspoon
PICS ground black pepper
1
medium red onion, halved and thinly sliced
2
garlic cloves, minced
1/3
cup
PICS balsamic vinegar
1/4
cup
PICS brown sugar
7
slices challah bread, quartered
1/4
cup pomegranate arils
1-1/2
teaspoons fresh thyme leaves
1.In large skillet, heat 2 tablespoons oil over medium-high heat. Sprinkle both sides of brisket with salt and pepper; add to skillet and cook 5 minutes or until outside is browned, turning once. Transfer brisket to 5- to 6-quart slow cooker.

2. In same skillet, cook onion over medium-high heat 5 minutes or until lightly browned, stirring occasionally. Add garlic; cook 30 seconds or until fragrant, stirring frequently. Transfer onion mixture to slow cooker.

3. In small bowl, whisk vinegar and sugar; pour over brisket and onion mixture in slow cooker. Cover and cook on high 4 hours or low 8 hours or until brisket is tender. Transfer brisket to cutting board, tent with aluminum foil and let stand 20 minutes. Reserve cooking liquid in slow cooker.

4. Preheat oven to 400°. Place bread pieces on rimmed baking pan; brush both sides with remaining 2 tablespoons oil. Bake bread 10 minutes or until golden brown and toasted.

5. Slice brisket across the grain; cut into 1-inch pieces. Add brisket to slow cooker with reserved cooking liquid; toss. Top bread pieces with brisket mixture, pomegranate arils and thyme. Makes 28 bites.


Approximate nutritional values per serving (2 bites):
267 Calories, 15g Fat (5g Saturated), 67mg Cholesterol, 157mg Sodium,
14g Carbohydrates, 1g Fiber, 6g Sugars, 4g Added Sugars, 18g Protein