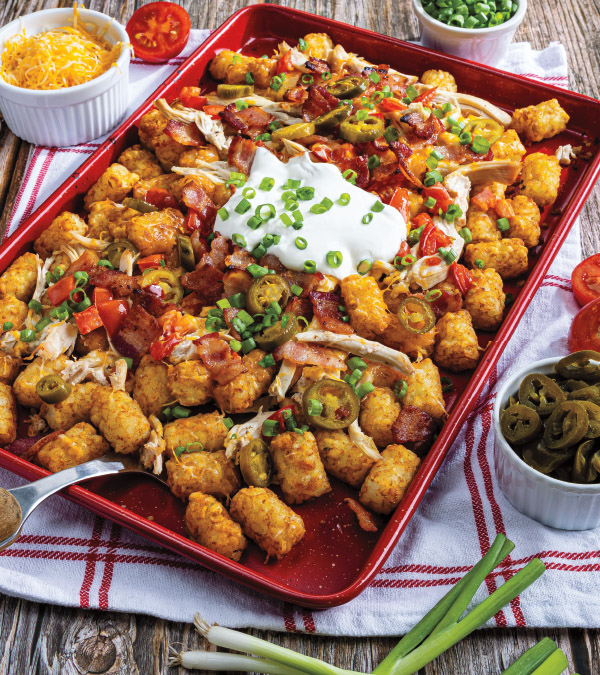 Grilled Shredded Chicken Tot-Chos
Prep: 15 minutes
Grill: 21 minutes • Serves: 8
PICS nonstick cooking spray
4
slices thick-cut applewood smoked bacon
1
bag (32 ounces) frozen
PICS potato tots
1-1/2
cups shredded skinless
Market 32 rotisserie chicken meat
1-1/2
cups
PICS Mexican blend shredded cheese
2
small Roma tomatoes, chopped
1/2
cup drained
PICS pickled jalapeño pepper slices
1/2
cup
PICS sour cream
1/4
cup chopped green onions
1. Prepare outdoor grill for direct grilling over medium-high heat; spray rimmed baking pan with cooking spray. Cut 12-inch square sheet aluminum foil; fold up edges to create 1-inch rim, crimping corners to secure. Place bacon on foil and place on hot grill rack; cover and cook 6 minutes or until crisp, turning once. Transfer bacon to cutting board; coarsely chop.

2. Spread tots on prepared pan and place pan on hot grill rack; cover and cook 10 minutes or until golden brown, stirring once halfway through cooking. Top tots with chicken, cheese, tomatoes, jalapeños and bacon; cover and cook 5 minutes or until cheese is melted.

3. Serve tots topped with sour cream and green onions. Makes about 8 cups.


Approximate nutritional values per serving (1 cup):
446 Calories, 28g Fat, (9g Saturated), 64mg Cholesterol, 1011mg Sodium,
28g Carbohydrates, 3g Fiber, 2g Sugars, 0g Added Sugars, 21g Protein