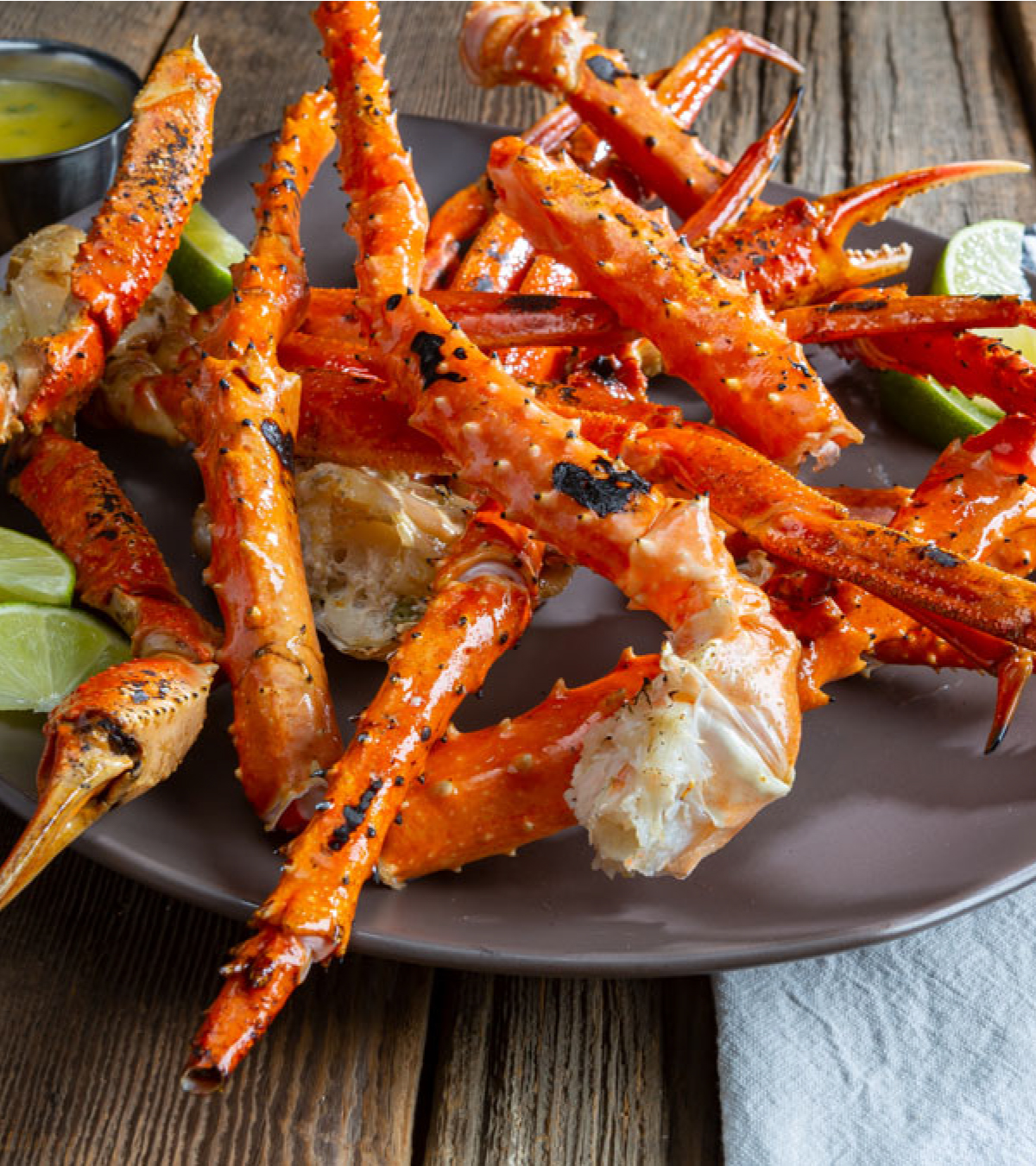 Shop Ingredients Click to See How-To Video!


Grilled Crab Legs with Spicy Mustard Sauce & Basil-Lime Butter
Prep: 15 minutes • Grill: 10 minutes
Serves: 4
Spicy Mustard Sauce
1/3
cup mayonnaise
2
tablespoons Dijon mustard
1
teaspoon fi nely chopped shallot
1/2
teaspoon fresh lemon juice
1/2
teaspoon refrigerated fresh ground horseradish
1/2
teaspoon Worcestershire sauce
Basil-Lime Butter
1/2
cup unsalted butter
1
garlic clove, minced
1-1/2
tablespoons chopped fresh basil
2
teaspoons fresh lime juice
1/2
teaspoon lime zest
Crab Legs
1-1/2
pounds Alaskan king crab legs
1-1/2
pounds snow crab legs
1.Spicy Mustard Sauce: Prepare outdoor grill for direct grilling over medium heat. In small bowl, stir all ingredients; cover and refrigerate until ready to serve. Makes about 1/2 cup.

2.Basil-Lime Butter: In small microwave-safe bowl, heat butter in microwave oven on high 1 minute or until melted. With large spoon, skim off and discard foam from top of melted butter; stir in garlic, basil, and lime juice and lime zest. Cover to keep warm. Makes about 1/2 cup.

3.Crab Legs: Place crab legs on hot grill rack; cover and cook king crab legs 10 minutes and snow crab legs 6 minutes or until heated through, turning once.

4.Serve crab legs with Spicy Mustard Sauce and Basil-Lime Butter.


Approximate nutritional values per serving:
455 Calories, 38g Fat (17g Saturated), 159mg Cholesterol,
1453mg Sodium, 1g Carbohydrates, 0g Fiber, 0g Sugars, 24g Protein

Chef Tip:
If crab legs are frozen, they can be thawed on the grill over indirect medium heat for about 10 minutes, turning once; transfer to direct medium to cook and cook as directed in step 4.