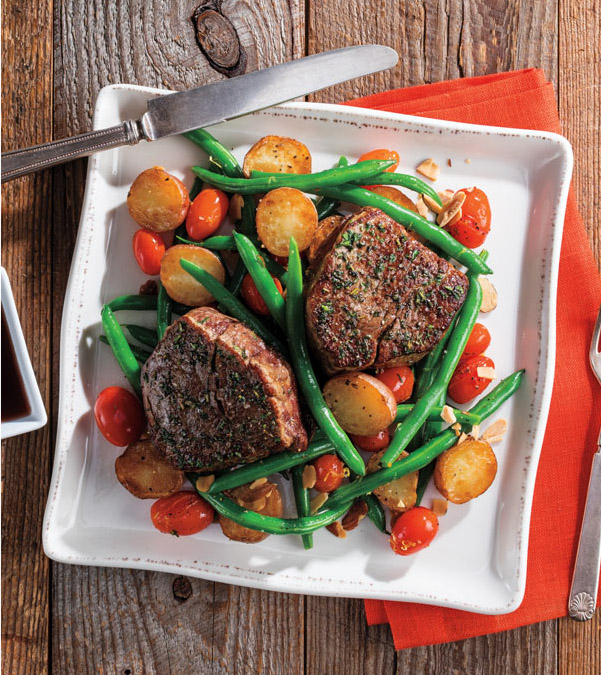 Shop Ingredients Click to See How-To Video!


Herb-Rubbed Filet Mignon
Prep: 10 minutes
Cook/Roast: 20 minutes • Serves: 2
2
filet mignon steaks (about 8 ounces each)
1
tablespoon chopped fresh parsley
1
tablespoon chopped fresh rosemary
1
tablespoon chopped fresh thyme
1/2
teaspoon kosher salt
1/4
teaspoon ground black pepper
1
tablespoon olive oil
1/4
cup dry red wine (such as Merlot or Zinfandel)
1/2
cup beef stock
1.Preheat oven to 500°. In small bowl, combine parsley, rosemary and thyme. Pat steaks dry with paper towel; sprinkle both sides with salt and pepper. In medium oven-safe skillet, heat oil over medium-high heat 2 minutes. Add steaks; cook 4 minutes or until seared, turning once.

2.Coat both sides of steaks with herb mixture; return to skillet. Roast 7 minutes or until internal temperature reaches 135° for medium-rare; transfer to cutting board. Loosely cover with aluminum foil; let stand 5 minutes.

3.Heat same skillet with beef drippings over medium-high heat; add wine and cook 2 minutes, scraping bottom of skillet with wooden spoon. Add stock; cook 3 minutes or until reduced by half. Spoon jus over steaks to serve.


Approximate nutritional values per serving: 

636 Calories, 49g Fat (17g Saturated), 140mg Cholesterol,
745mg Sodium, 2g Carbohydrates, 0g Fiber, 0g Sugars,
0g Added Sugars, 40g Protein