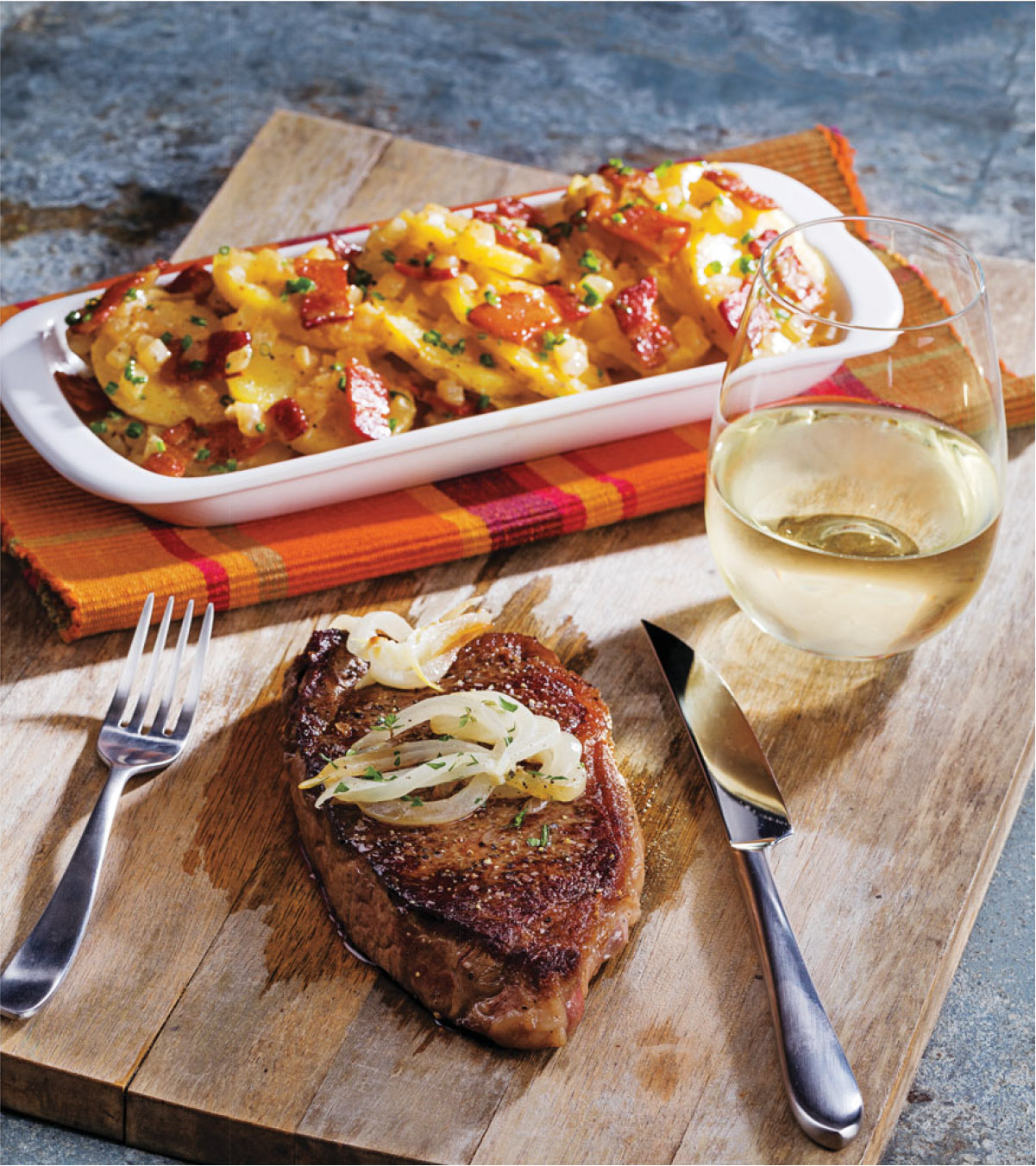 Shop Ingredients Click to See How-To Video!


Seared New York Strip Steak w/Sautéed Onions
Prep: 15 minutes plus standing
Cook: 20 minutes • Serves: 4
4
boneless New York strip steaks (about 8 ounces each)
2
tablespoons unsalted butter
2
medium yellow onions, halved and thinly sliced
2
tablespoons chopped fresh Italian flat-leaf parsley
1
teaspoon chopped fresh thyme
1-1/2
teaspoons kosher salt
3/4
teaspoon ground black pepper
2
tablespoons olive oil
1.Place steaks on cutting board; with flat side of meat mallet, pound steaks to 1/2-inch thick. Let stand 20 minutes.

2.Heat large skillet over medium-high heat 1 minute or until hot; add butter and onions. Cook 10 minutes or until onions are soft and lightly browned, stirring frequently; remove from heat. Stir in parsley, thyme, 1/2 teaspoon salt and 1/4 teaspoon pepper; cover to keep warm.

3.Heat large heavy or cast iron skillet over high heat 4 minutes; sprinkle steaks with remaining 1 teaspoon salt and 1/2 teaspoon pepper. Add 1 tablespoon oil and 2 steaks to skillet; cook 2-1/2 minutes or until bottom of steaks are browned. Add remaining 1 tablespoon oil and turn steaks; cook 2-1/2 minutes longer or until bottom of steaks are browned and internal temperature reaches 135°, turning once. Transfer steaks to cutting board; tent with aluminum foil and let stand 10 minutes. (Internal temperature of steaks will rise to 145° upon standing for medium-rare.) Repeat to cook remaining 2 steaks in drippings in same skillet.

4.Serve steaks smothered with onions.


Approximate nutritional values per serving:
541 Calories, 37g Fat (14g Saturated), 144mg Cholesterol,
817mg Sodium, 6g, Carbohydrates, 1g Fiber, 44g Protein