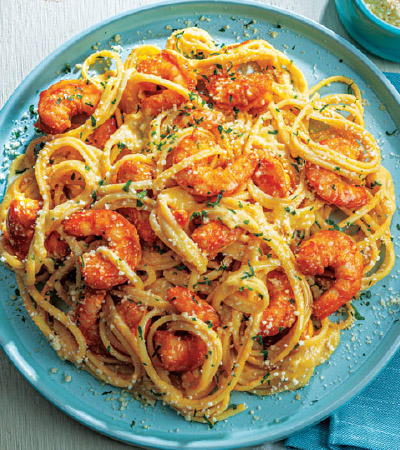 Shop Ingredients Click to See How-To Video!


One-Pot Smoky Shrimp Linguine
Prep: 10 minutes plus standing
Cook: 15 minutes • Serves: 4
1
pound
M32 Raw 21/25 Count Peeled & Deveined Shrimp
, tails removed
1
tablespoon
PICS™ Lite Soy Sauce
1/2
teaspoon smoked paprika
1
tablespoon
PICS™ 100% Pure Olive Oil
1/2
(16-ounce) package
PICS™ Linguine
, broken in half
3
cups vegetable stock
1
PICS™ Grade A Large Egg Yolk
1/4
cup
PICS™ Vitamin D Milk
1/4
cup
PICS™ Grated Parmesan Cheese
plus additional for garnish
2
tablespoons chopped fresh parsley
1.In large bowl, toss shrimp, soy sauce and paprika; let stand 5 minutes.

2.In high-sided large skillet, heat oil over medium-high heat. Add shrimp mixture; cook 3 minutes or until shrimp turn opaque throughout, turning once. Transfer shrimp to bowl; cover loosely to keep warm.

3.In same skillet, heat pasta and stock to a boil over medium-high heat. Reduce heat to low; cover and cook 8 minutes or until pasta is al dente and stock is reduced to a thin sauce, stirring occasionally. Stir in egg yolk and milk; cook 2 minutes or until sauce thickens slightly, stirring constantly. Remove from heat; gradually stir in cheese, then shrimp. Makes about 5 cups.

4.Serve pasta sprinkled with parsley and cheese.


Approximate nutritional values per serving (1-1/4 cups):
416 Calories, 10g Fat (2g Saturated), 253mg Cholesterol,
946mg Sodium, 46g Carbohydrates, 2g Fiber, 4g Sugars, 34g Protein