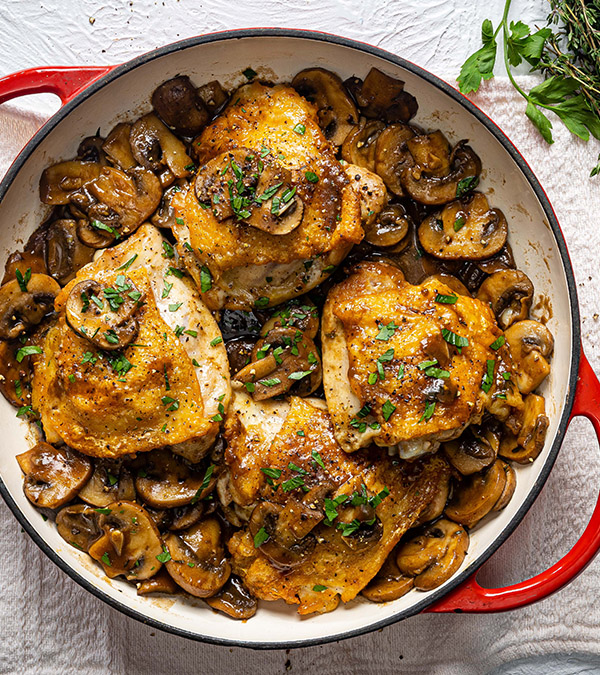 Chicken Thighs in Mushroom Sauce
Prep: 15 minutes
Cook/Roast: 28 minutes • Serves: 4
4
Market 32 bone-in, skin-on chicken thighs
(about 2 pounds)
3/4
teaspoon
PICS salt
3/4
teaspoon
PICS black pepper
2
tablespoons olive oil
2
packages (8 ounces each) sliced cremini mushrooms
1
teaspoon fresh thyme leaves
1
garlic clove, minced
1
tablespoon
PICS unsalted butter
1
tablespoon
PICS all-purpose flour
2
tablespoons balsamic vinegar
1
cup
PICS chicken stock
Chopped fresh
Market 32 Italian parsley
for garnish (optional)
1. Preheat oven to 425°. Pat chicken dry; sprinkle both sides with 1/2 teaspoon each salt and pepper. In large skillet, heat oil over medium-high heat. Add chicken, skin side down; cook 8 minutes or until browned, turning once. Transfer chicken to rimmed baking pan, skin side up; roast 20 minutes or until internal temperature of chicken reaches 165°.

2. In same large skillet, cook mushrooms, thyme, and remaining 1/4 teaspoon each salt and pepper over medium heat 5 minutes or until tender, stirring frequently. Stir in garlic and butter; cook 1 minute or until butter melts. Add flour; cook 1 minute, stirring occasionally. Stir in vinegar; cook 1 minute or until thickened, stirring frequently. Whisk in stock; cook 2 minutes or until thickened. Makes about 2 cups.

3. Transfer chicken to mushroom mixture; serve sprinkled with parsley, if desired.


Approximate nutritional values per serving (1 chicken thigh, 1/2 cup mushroom sauce):
437 Calories, 29g Fat, 8g Saturated Fat, 182mg Cholesterol, 601mg Sodium,
8g Carbohydrates, 1g Fiber, 3g Sugars, 0g Added Sugars, 35g Protein

Chef Tip:
Leftover chicken and mushroom mixture can be covered and refrigerated up to 5 days.