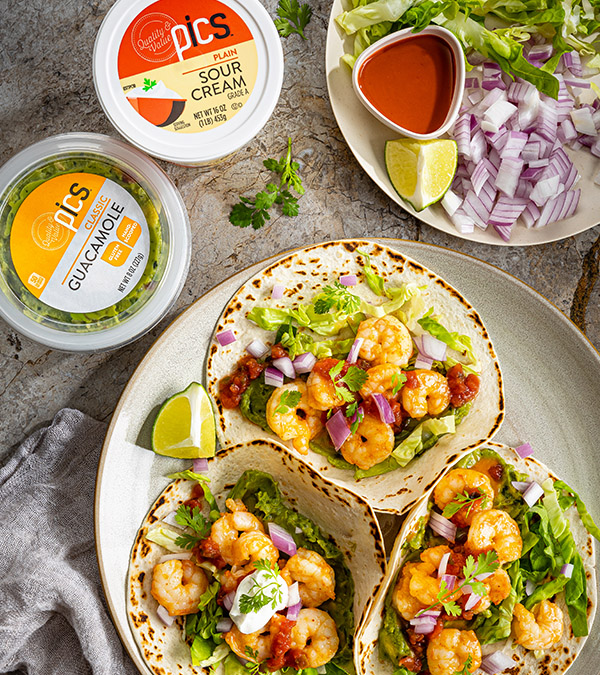 Click to See How-To Video!



Beer-Poached Shrimp Tacos
Prep: 10 minutes
Cook: 12 minutes • Serves: 4
2
bottles (24 ounces) Mexican-style lager beer
2
tablespoons
PICS hot sauce
2
teaspoons
PICS street corn seasoning
1-1/2
pounds
Market 32 raw 31-40 count peeled and deveined shrimp
, thawed if necessary
2
tablespoons unsalted butter, melted
8
PICS 8″ flour taco tortillas
1/2
cup
PICS classic guacamole
8
butter lettuce leaves, shredded
1/2
cup
PICS hot chunky salsa
Chopped red onion, chopped fresh cilantro and/or
PICS sour cream
(optional)
1. In medium saucepan, heat beer, hot sauce and 1 teaspoon seasoning to a simmer over medium-high heat. Add shrimp; cook 2 1/2 minutes or until shrimp turn opaque throughout.

2. In medium bowl, stir butter and remaining 1 teaspoon seasoning; add shrimp and toss to coat.

3. In batches, on griddle or in large skillet, heat tortillas over medium-high heat 3 minutes or until lightly browned, turning once. Fill tortillas with shrimp mixture, guacamole, lettuce and salsa; top with onion, cilantro and/or sour cream, if desired. Makes 8 tacos.


Approximate nutritional values per serving (2 tacos):
439 Calories, 17g Fat, 7g Saturated Fat, 230mg Cholesterol, 2092mg Sodium,
41g Carbohydrates, 3g Fiber, 4g Sugars, 0g Added Sugars, 30g Protein