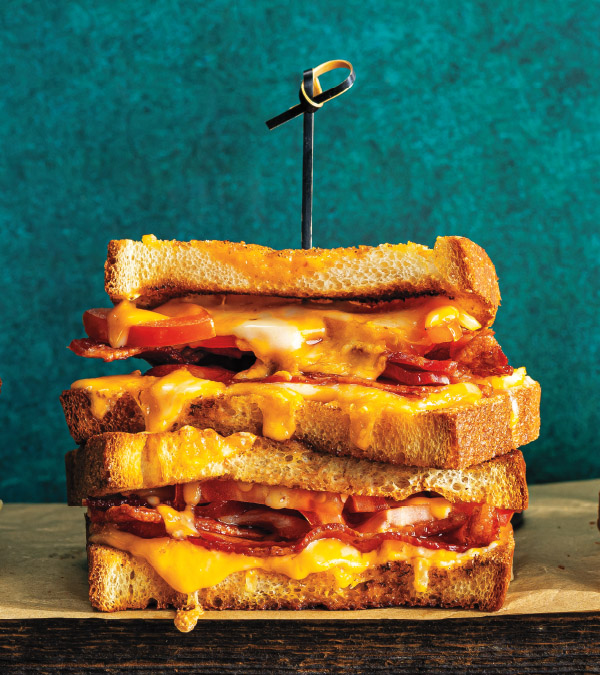 Oven Grilled Cheese with Bacon
Prep: 15 minutes
Bake: 6 minutes • Serves: 4
4
slices
PICS bacon or PICS turkey bacon
1/3
cup
PICS mayonnaise
1
tablespoon sriracha chili sauce or chili paste
8
slices
PICS white or Italian bread
1-3/4
cups
PICS shredded Colby Jack or mozzarella cheese
2
Roma tomatoes, cut into 1/4-inch-thick slices (optional)
1
large
Full Circle ripe avocado
, peeled, pitted and sliced (optional)
1. Preheat oven to 375°; line rimmed baking pan with aluminum foil. Arrange bacon on prepared pan; bake 12 minutes or until crisp. Transfer bacon to cutting board; cut crosswise in half. Remove foil from pan; wipe pan clean with paper towel, if necessary. Place pan on middle oven rack; preheat to 450°.

2. In small bowl, stir mayonnaise and sriracha. Makes about 6 tablespoons.

3. Spread 1 side of bread slices with mayonnaise mixture; place 4 slices, mayonnaise side down, on second rimmed baking pan. Top with half the cheese, bacon, tomatoes, if desired, avocado, if desired, remaining cheese and remaining 4 bread slices, mayonnaise side up.

4. Carefully remove hot baking pan from oven and press on top of sandwiches; carefully place sandwiches between pans back on middle oven rack. Bake sandwiches 6 minutes or until cheese is melted and bread is golden brown.


Approximate nutritional values per serving (1 sandwich):
504 Calories, 34g Fat, 13g Saturated Fat, 62mg Cholesterol, 974mg Sodium,
23g Carbohydrates, 3g Fiber, 4g Sugars, 3g Added Sugars, 18g Protein