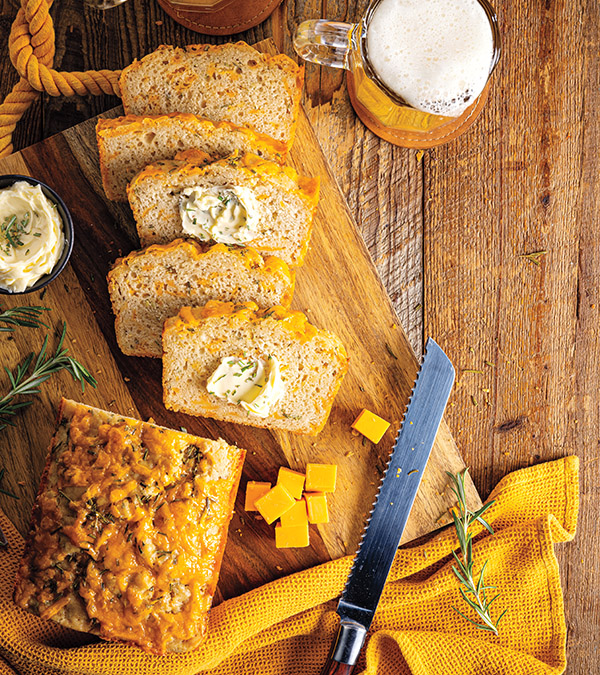 Click to See How-To Video!



Cheddar-IPA Bread
Prep: 20 minutes plus cooling
Bake: 45 minutes • Serves: 10
PICS nonstick cooking spray
3
cups
PICS all-purpose flour
1
tablespoon
PICS baking powder
1
tablespoon
PICS granulated sugar
1
teaspoon
PICS salt
1-1/4
cups shredded
PICS Cheddar cheese
1
tablespoon plus 1/2 teaspoon chopped fresh rosemary
1-1/2
bottles (12 fluid ounces each) IPA beer
5
tablespoons
PICS unsalted butter
, melted
1. Preheat oven to 350°; spray 9 x 5-inch loaf pan with cooking spray.

2. In large bowl, whisk flour, baking powder, sugar and salt; fold in 1 cup cheese and 1 tablespoon rosemary. Gradually stir in beer, stirring until just combined; spread in prepared pan and pour 3 tablespoons butter over top. Bake bread 37 minutes.

3. In small bowl, whisk remaining 2 tablespoons butter and 1/2 teaspoon rosemary; brush over top of bread. Top with remaining 1/4 cup cheese; bake 8 minutes or until toothpick inserted in center comes out clean and cheese is melted. Cool bread in pan on wire rack 10 minutes; run a small knife around edge of pan to loosen. Remove bread from pan; cool completely on wire rack. Makes 1 loaf.

4. Cut bread into 10 (3/4-inch-thick) slices.


Approximate nutritional values per serving (1 slice):
280 Calories, 11g Fat (6g Saturated), 29mg Cholesterol, 474mg Sodium,
33g Carbohydrates, 1g Fiber, 1g Sugars, 1g Added Sugars, 7g Protein