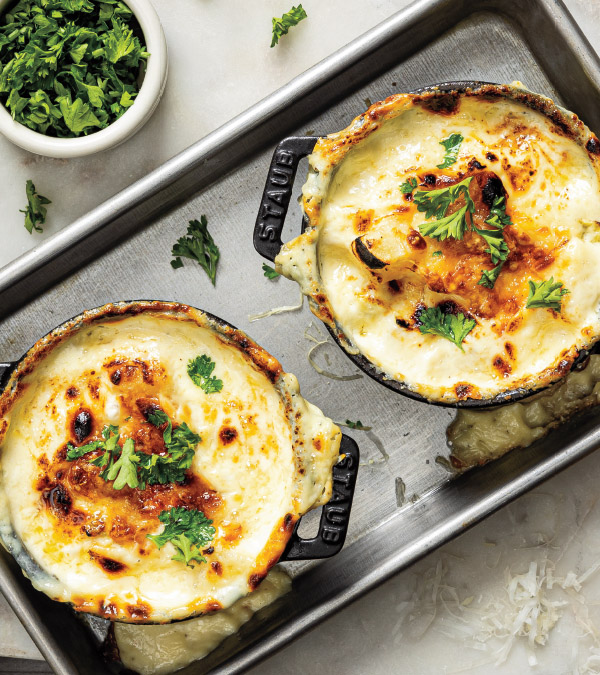 Individual Potato-Cabbage Gratins
Prep: 20 minutes plus standing
Roast: 28 minutes • Serves: 4
1
tablespoon plus 1 teaspoon
PICS unsalted butter
1
medium
Market 32 russet potato
, peeled and cut into 1/2-inch pieces
1
cup chopped green cabbage
1
cup
PICS heavy cream
1
teaspoon minced garlic
1/2
teaspoon
PICS salt
1/4
teaspoon
PICS black pepper
1/2
cup
PICS shredded Monterey Jack cheese
1/4
cup
PICS grated Parmesan cheese
Chopped fresh parsley for garnish (optional)
1. Preheat oven to 400°. Place 4 (6-ounce) ramekins on rimmed baking pan; grease each with 1/4 teaspoon butter. In large bowl, toss potato and cabbage; divide into ramekins.

2. In small saucepot, heat cream, garlic, salt, pepper and remaining 1 tablespoon butter to a simmer over medium heat; cook 2 minutes or until slightly thickened, stirring frequently. Reduce heat to medium-low. Add Monterey Jack cheese and 2 tablespoons Parmesan cheese; stir until cheese melts. Makes about 1-1/2 cups.

3. Carefully pour cream mixture into ramekins; sprinkle with remaining 2 tablespoons Parmesan cheese. Roast gratins 28 minutes or until potato is tender and tops are golden brown; let stand 8 minutes. Makes 4 gratins.

4. Serve gratins sprinkled with parsley, if desired.


Approximate nutritional values per serving (1 gratin):
377 Calories, 31g Fat (20g Saturated), 95mg Cholesterol, 493mg Sodium,
17g Carbohydrates, 2g Fiber, 3g Sugars, 0g Added Sugars, 9g Protein