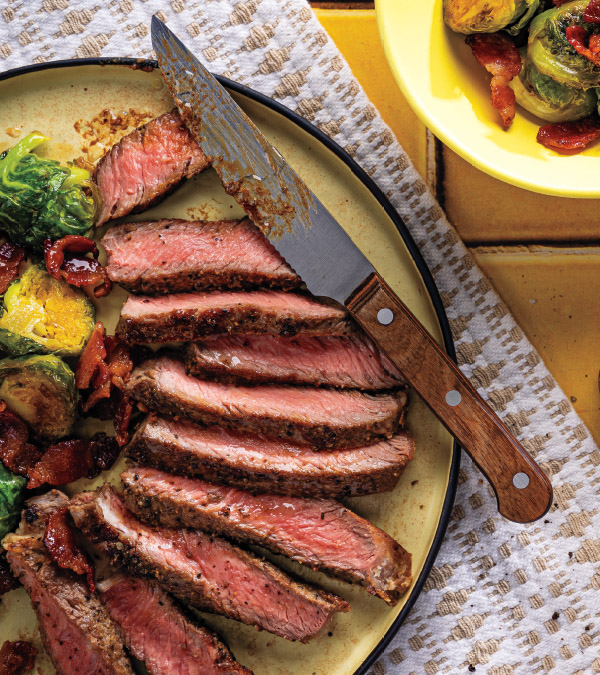 Seared Ribeye with Maple-Bacon Brussels Sprouts
Prep: 15 minutes plus standing
Roast/Cook: 25 minutes • Serves: 4
6
slices
PICS thick-cut bacon
, chopped
1
pound
PICS Brussels sprouts
, ends trimmed and halved crosswise
1
tablespoon
PICS olive oil
2
teaspoons
PICS salt
2
teaspoons
PICS ground black pepper
2
tablespoons
PICS maple syrup
1/2
tablespoon
PICS apple cider vinegar
3
tablespoons
PICS unsalted butter
4
garlic cloves, minced
2
bone-in ribeye steaks (about 16 ounces each)
1. Preheat oven to 400°; line rimmed baking pan with aluminum foil. In large skillet, cook bacon over medium-high heat 8 minutes or until crisp, stirring occasionally. With slotted spoon, transfer bacon to paper towel-lined plate. Drain drippings from skillet.

2. In large bowl, toss Brussels sprouts, oil and 1/2 teaspoon each salt and pepper; spread on prepared pan. Roast 15 minutes or until slightly golden; stir in syrup. Roast 10 minutes or until golden brown; stir in vinegar and bacon. Makes about 2 cups.

3. In same skillet, heat butter over high heat. Add garlic; cook 2 minutes or until fragrant, stirring frequently. Sprinkle both sides of steaks with remaining 11/2 teaspoons each salt and pepper; add to skillet and cook 8 minutes or until internal temperature reaches 135° for medium-rare, turning frequently to achieve an even crust on outside of steaks. Transfer steaks to cutting board; tent with aluminum foil and let stand 5 minutes. (Internal temperature will rise to 145° upon standing.)

4. Remove and discard bone from steaks; slice against the grain and serve with Brussels sprouts mixture.


Approximate nutritional values per serving (4-1/2 ounces steak, 1/2 cup Brussels sprouts mixture):
613 Calories, 36g Fat (15g Saturated), 186mg Cholesterol, 1273mg Sodium,
17g Carbohydrates, 4g Fiber, 8g Sugars, 6g Added Sugars, 54g Protein