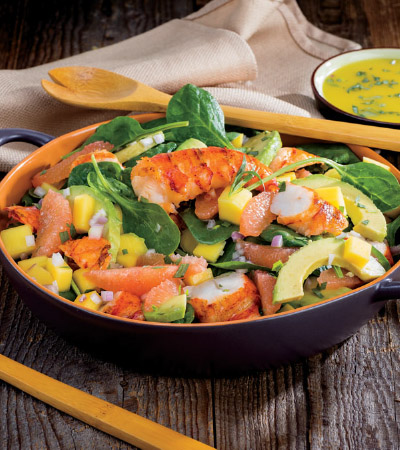 Shop Ingredients Click to See How-To Video!


Grilled Lobster Tail Salad

Prep: 40 minutes
Grill: 3 minutes • Serves: 4
1/2
cup fresh lemon juice
3
tablespoons finely chopped shallots
1-1/2
tablespoons chopped fresh tarragon
2
teaspoons honey
1
teaspoon salt
1/2
cup extra virgin olive oil
8
(4-ounce) cold water lobster tails
1/4
cup unsalted butter, melted
2
bags (5 to 6 ounces each) baby spinach
2
grapefruits, peeled and segmented
1
avocado, peeled, pitted and diced
1
mango, peeled, pitted and diced
1. In small bowl, whisk 1/4 cup lemon juice, shallots, tarragon, honey and salt; whisking constantly, drizzle in oil until emulsified.

2.Heat large covered saucepot of salted water to boiling over high heat; add tails and return to boiling. Reduce heat to medium and cook 2 minutes; remove and let cool.

3.Prepare outdoor grill for direct grilling over medium heat. With scissors, cut tail shells lengthwise down center; with fingers, spread shells apart slightly. Flip tails over onto backs; insert 1 metal skewer lengthwise into each tail through the center of the meat. In small bowl, whisk butter and remaining 1/4 cup lemon juice.

4.Place tails, cut side down, on hot grill rack; cook, covered,
2 minutes; turn tails. Evenly pour butter mixture onto meat; cook, covered, 1 minute or until meat turns opaque throughout.

5.Remove meat from shells; chop half the meat. Divide spinach over 4 plates; evenly divide meat, grapefruit, avocado and mango over spinach. Drizzle salads with dressing.