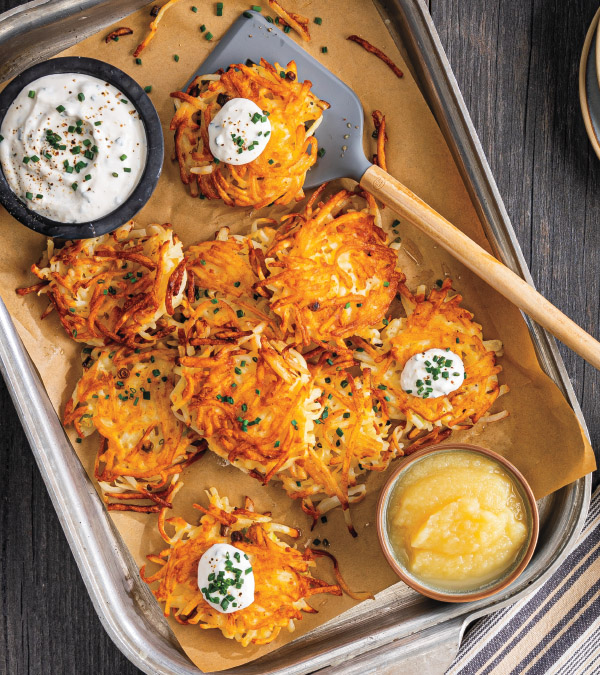 Potato Latkes with Horseradish-Sour Cream Sauce
Prep: 20 minutes
Cook: 36 minutes • Serves: 12
Horseradish-Sour Cream Sauce
1
container (8 ounces)
PICS sour cream
1-1/2
tablespoons
PICS prepared horseradish
1/4
teaspoon fresh lemon juice
1/4
teaspoon
PICS kosher salt
1/8
teaspoon ground white pepper
1-1/2
tablespoons chopped fresh chives
Latkes
3
PICS large eggs
2
bags (20 ounces each) refrigerated shredded hash browns
1/2
cup finely chopped green onions, white parts only
3
tablespoons
PICS all-purpose flour
2
teaspoons
PICS kosher salt
1
teaspoon fresh lemon juice
1/4
teaspoon ground white pepper
3/4
cup
PICS vegetable oil
1
cup
PICS applesauce
Horseradish-Sour Cream Sauce
1. In small bowl, whisk sour cream, horseradish, lemon juice, salt and pepper; stir in chives, cover and refrigerate until ready to serve. Makes about 1 cup.

Latkes
2. In small bowl, whisk eggs. In large bowl, toss hash browns, onions, flour, salt, lemon juice and pepper; add eggs and toss gently.

3. With hands, form about 1/4-cup potato mixture into flat patties; place on rimmed baking pan. In batches, in large nonstick skillet, heat 2 tablespoons oil over medium-high until very hot but not smoking. Add latkes; cook 6 minutes or until edges are golden brown, turning once. Transfer latkes to paper towels to drain; keep warm. Makes about 36 latkes.

4. Serve latkes with Horseradish-Sour Cream Sauce and applesauce.


Approximate nutritional values per serving (3 latkes, 1-1/3 tablespoons each sauce and applesauce):
285 Calories, 19g Fat (5g Saturated), 59mg Cholesterol, 479mg Sodium,
26g Carbohydrates, 3g Fiber, 4g Sugars, 2g Added Sugars, 4g Protein