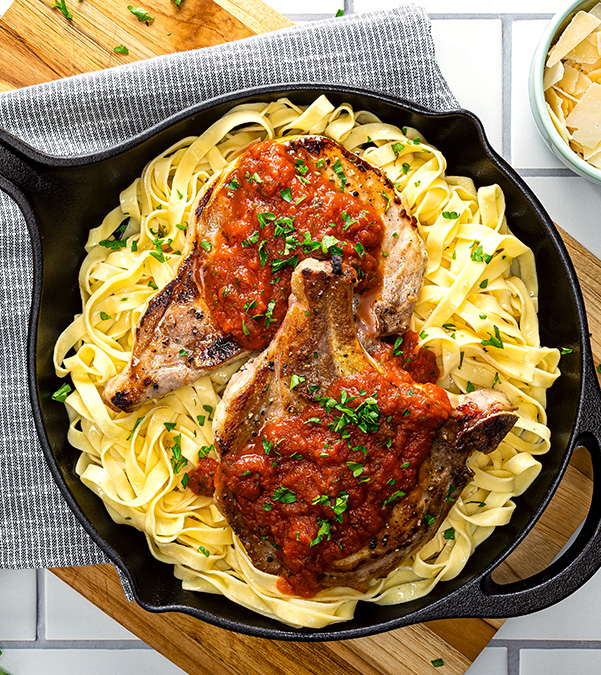 Authentic Tomato Sauce
Prep: 15 minutes
Cook: 3 hours 9 minutes • Serves: 10
4
large garlic cloves, minced
1/2
cup finely chopped
Market 32 white onion
1/4
cup
PICS olive oil
2
tablespoons
PICS tomato paste
1
can (28 ounces)
PICS crushed tomatoes
1
can (28 ounces)
PICS tomato purée
1
tablespoon
PICS granulated sugar
1/2
teaspoon
PICS salt
1/2
teaspoon
PICS black pepper
2
tablespoons coarsely chopped
Market 32 fresh basil
2
tablespoons coarsely chopped fresh parsley
1.In large saucepot, cook garlic, onion and oil over medium-low heat 7 minutes or until fragrant, stirring occasionally (do not brown). Add tomato paste; cook 2 minutes. Stir in crushed tomatoes with their juice, tomato purée, sugar, salt and pepper; cover and cook 3 hours, stirring occasionally. Stir in basil and parsley. Makes about 5 cups.
Approximate nutritional values per serving:
124 Calories, 6g Fat (1g Saturated), 0mg Cholesterol, 287mg Sodium, 14g Carbohydrates, 3g Fiber, 3g Protein
Chef Tips:
For a smoother sauce, purée in a blender or with an immersion blender.
Try serving sauce over your favorite pasta along with pork chops, or use in a lasagna or eggplant Parmesan.