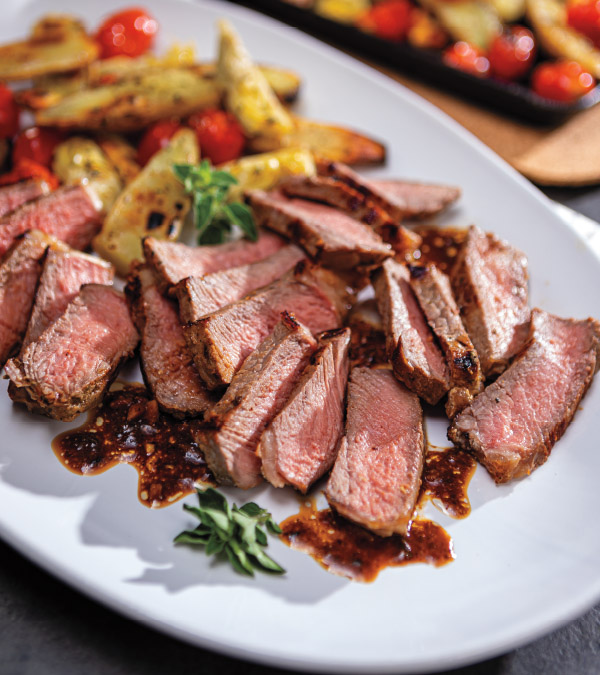 Greek Sheet-Pan New York Strip Steak with Roasted Tomatoes, Artichokes & Fingerlings
Prep: 20 minutes
Roast: 35 minutes • Serves: 4
2
garlic cloves, minced
1/4
cup plain
PICS nonfat Greek yogurt
1
tablespoon plus 2 teaspoons
PICS extra virgin olive oil
1
tablespoon fresh lemon juice
1
tablespoon
PICS honey
1
tablespoon
PICS red wine vinegar
2
teaspoons chopped fresh oregano
3/4
teaspoon
PICS salt
1/4
teaspoon
PICS ground black pepper
1-1/4
pounds
USDA Choice beef premium black angus New York strip steak
PICS nonstick cooking spray
1
pound yellow fingerling potatoes, halved lengthwise
1
pint
Full Circle grape tomatoes
1/2
cup drained quartered
PICS artichoke hearts in water
1.In small bowl, whisk garlic, yogurt, 1 tablespoon oil, lemon juice, honey, vinegar, oregano, 1/4 teaspoon salt and pepper. Place steak in large zip-top plastic bag; pour garlic mixture over steak. Seal bag, pressing out excess air; refrigerate at least 1 hour or up to 8 hours.

2.Preheat oven to 400°; spray rimmed baking pan with cooking spray. In large bowl, toss potatoes, 1 teaspoon oil and ¼ teaspoon salt; spread in single layer on prepared pan and roast 15 minutes.

3.In medium bowl, toss tomatoes, artichoke hearts and remaining 1 teaspoon oil and 1/4 teaspoon salt. Push potatoes to 1 side of pan; place vegetables on opposite side and roast 5 minutes.

4.Remove steak from marinade; discard marinade. Push potatoes and vegetables to 1 side of pan; place steaks on opposite side and roast 12 minutes. Turn broiler to high. Broil steak, potatoes and vegetables 3 minutes or until internal temperature of steak reaches 135° for medium-rare, turning steak and stirring vegetables once. Transfer steak to cutting board; tent with foil and let stand 5 minutes. (Internal temperature will rise to 145° upon standing.)

5.Slice steak against the grain; serve with potatoes and vegetables. Makes about 5 cups potatoes and vegetables.


Approximate nutritional values per serving:
439 Calories, 22g Fat (7g Saturated), 92mg Cholesterol,
594mg Sodium, 27g Carbohydrates, 4g Fiber, 35g Protein