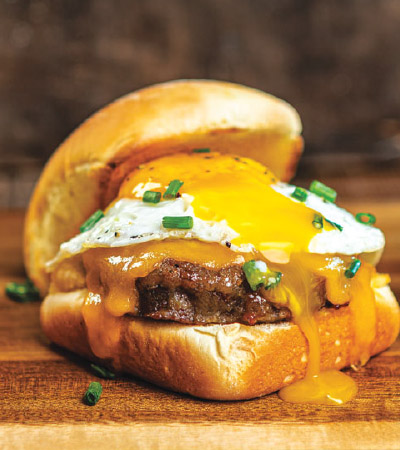 Shop Ingredients Click to See How-To Video!


Sausage, Egg & Cheese Breakfast Sliders
Prep: 10 minutes
Bake/Cook: 17 minutes • Serves: 8
1
package (16 ounces) pork sausage
1
teaspoon
PICS™ Onion Powder
1/2
teaspoon
PICS™ Garlic Powder
1/2
(8-ounce) package
PICS™ Sharp Cheddar Cheese
, cut into 8 slices
1
tablespoon
PICS™ Sweet Cream Unsalted Butter
8
PICS™ Grade A Large Eggs
8
Hawaiian sweet rolls, split
2
tablespoons chopped fresh chives (optional)
1/4
teaspoon sea salt (optional)
1/4
teaspoon ground black pepper (optional)
1.Preheat oven to 450°. Line rimmed baking pan with parchment paper. In large bowl, gently mix sausage, onion powder and garlic powder; form into 8 (3-inch) patties and place on prepared pan. Bake 15 minutes or until internal temperature reaches 160°; top with cheese. Bake 2 minutes or until cheese melts.

2.In large nonstick skillet, in 2 batches, melt 1/2 tablespoon butter over medium heat; add 4 eggs and cook 3 minutes or to desired doneness. Fill rolls with sausage and eggs; garnish with chives, salt and pepper, if desired.


Approximate nutritional values per serving (1 slider):
382 Calories, 26g Fat (11g Saturated), 246mg Cholesterol,
550mg Sodium, 18g Carbohydrates, 0g Fiber, 6g Sugars, 18g Protein