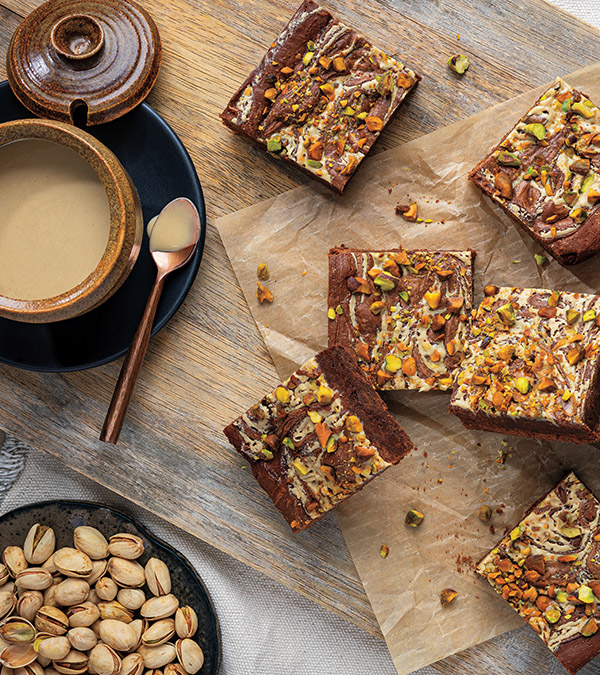 Pistachio, Tahini & Dark Chocolate Brownies
Prep: 15 minutes plus cooling
Bake: 30 minutes • Serves: 16
PICS nonstick cooking spray
1
package (10 ounces) dark chocolate chips
1/2
cup organic unsalted butter (1 stick), cut into cubes
4
large eggs
1
cup
PICS brown sugar
1
teaspoon
PICS vanilla extract
1/4
teaspoon fine sea salt
1
cup
PICS all-purpose flour
1/2
cup tahini
1/4
cup chopped roasted salted shelled pistachios
1.Preheat oven to 350°; spray 9-inch square baking dish with cooking spray.

2. In small saucepan, heat chocolate chips and butter over low heat 4 minutes or until most chips are melted, stirring frequently with rubber spatula; remove from heat and stir until all chips are melted.

3. In large bowl, whisk eggs, brown sugar, vanilla extract and salt; whisk in chocolate mixture, then flour. Pour batter into prepared dish. Using small spoon, drop dollops of tahini over chocolate mixture; with wooden skewer or toothpick, swirl tahini into chocolate mixture to create marbled effect. Sprinkle pistachios over batter; bake 30 minutes or until toothpick inserted in center comes out with a few crumbs. Cool completely in pan on wire rack.

4. Cut brownie into 16 squares. Makes 16 brownies.


Approximate nutritional values per serving (1 brownie):
309 Calories, 18g Fat, 8g Saturated Fat, 62mg Cholesterol, 68mg Sodium,
32g Carbohydrates, 2g Fiber, 21 Sugars, 21 Added Sugars, 5g Protein