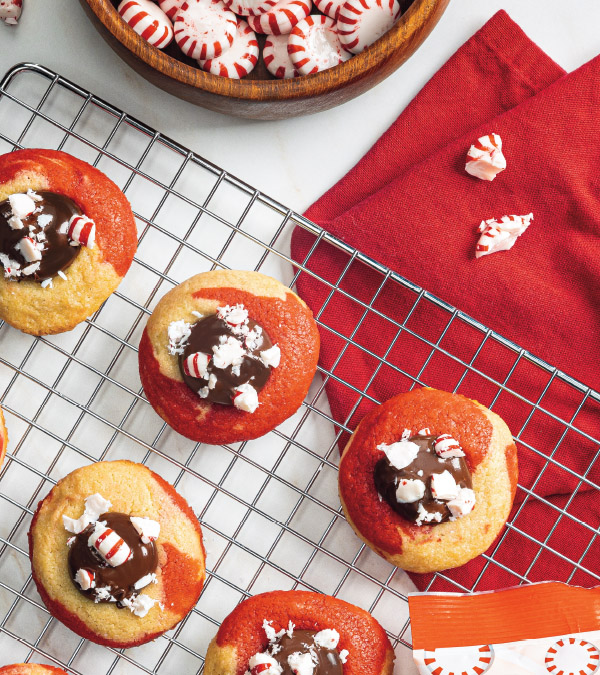 Mini Peppermint Thumbprint Cookies
Prep: 15 minutes plus freezing and cooling
Bake: 10 minutes • Serves: 25
1-1/4
cups
PICS all-purpose flour
1/2
tablespoon
PICS cornstarch
1/2
cup
PICS unsalted butter
, softened
1/4
cup
PICS granulated sugar
2
tablespoons packed
PICS light brown sugar
2
PICS large egg yolks
1
teaspoon
PICS vanilla extract
1/2
teaspoon red food coloring
1/2
cup
PICS semisweet chocolate baking chips
1/2
teaspoon
PICS vegetable oil
2
tablespoons finely crushed
PICS starlight mints
1. Adjust 2 oven racks to top and bottom positions; preheat oven to 350°. Line 2 rimmed baking pans with parchment paper. In medium bowl, whisk flour and cornstarch.

2. In large bowl, with mixer on medium-high speed, beat butter and sugars 2 minutes or until light and fluffy. Add egg yolks and vanilla extract; beat 1 minute or until incorporated. Reduce speed to low; add flour mixture and beat 1 minute or until incorporated, scraping down bowl occasionally. Remove half the dough; add red food coloring to bowl and beat 1 minute or until incorporated.

3. Combining a small piece of plain dough and a small piece of red dough, roll into 25 (1-inch) balls; place 2 inches apart on prepared pans. Press thumb into center of each ball to make indentation, making sure not to press all the way through; freeze 15 minutes.

4. Bake cookies 10 minutes or until bottoms are slightly browned, rotating pans halfway through baking; cool 10 minutes on pans, then transfer to wire rack to cool completely.

5. In small microwave-safe bowl, heat chocolate chips and oil in microwave oven on high 1 minute or until melted, stirring every 20 seconds. Spoon chocolate mixture into indentations in cookies; sprinkle with mints. Makes 25 cookies.


Approximate nutritional values per serving (1 cookie):
98 Calories, 6g Fat (4g Saturated), 27mg Cholesterol, 1mg Sodium,
11g Carbohydrates, 1g Fiber, 5g Sugars, 5g Added Sugars, 1g Protein

Chef Tip:
If indentations in cookies rise too much during baking, gently press back down with back of measuring teaspoon while cookies are still warm.